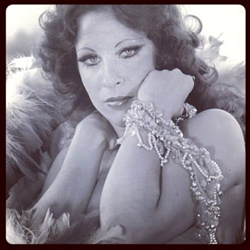 "With a lineup consisting of local favorites and a legend of burlesque....well, Sacramento burlesque fans are in for one amazing night!"
Sacramento, Calif. (PRWEB) February 12, 2015
Sacramento's newest producers of burlesque entertainment for all ages, the Golden Poppy Revue, will present international burlesque legend Isis Star as part of a cast of world-class burlesque, boylesque, bellydance, swing dancing, sideshow and stand-up comedy performers in "L'Amour – An Evening of Valentease," Saturday, Feb. 28 at the historic Colonial Theatre. In the spirit of Valentine's Day, this show will be a celebration of all things love, passion, sex & romance. Tickets are $17 for general admission or $25 for "The VIP Experience," which includes admission to a special VIP pre-show and seating in the first 3 rows of the theatre. For the full lineup or tickets to the show, visit http://valentease.brownpapertickets.com or call Brown Paper Tickets' 24/7 even concierges at: 1 (800) 838-3006.
"This is the revue's debut show and all of our cast members and special guests are abuzz with anticipation," says producer Vivienne Del Fuego. "With a lineup consisting of local favorites and a legend of burlesque....well, Sacramento burlesque fans are in for one amazing night!"
Featured performer, Isis Starr, a living burlesque legend, has performed at the Crazy Horse and legendary Moulin Rouge in Paris. She has worked at the Windmill Theater in London and has peformed in Australia, Japan, Thailand, Spain, Morroco, Russia and many more locales worldwide. She's also been featured on HBO's Real Sex, Hawaii Five O and Top of the Pops in the UK.
Other performers include boylesque performer Darren Kiss, bellydancer Tisha Leigh, sideshow performance from Ryan Dile, swing dancing from Felicia & Ramses and stand-up comedy from Steph Garcia.
This production will also be taking part in Brown Paper Tickets Burlesque Hall of Fame Fund (http://community.brownpapertickets.com/burlesquehalloffame/). Established through Brown Paper Tickets' acquisition of Glitter Tix, the Burlesque Hall of Fame Fund helps event producers raise money for the Burlesque Hall of Fame, a 501 (c)(3) nonprofit museum. By adding a $0.35 donation amount to ticket prices, 100% of which goes directly to the museum, ticket buyers can now help support the Burlesque Hall of Fame's mission to "preserve, celebrate and inspire the art of burlesque" for years to come.
Beer and wine will be available at the adjoining Café Colonial. For more information, go to http://colonialtheatre.biz/home.html.
Any and all questions regarding this event should be directed to Vivienne Fuego at vivienne.fuego(at)gmail(dot)com Press passes are available upon request.
###
EDITOR'S NOTE: Telephone interviews and in-studio performances with Sugar Cheeks, Jenna Jezebel, Tisha Leigh, and Isis Starr (telephone interviews only), as well as high-resolution photos upon request, by calling Vivienne Fuego, vivienne.fuego(at)gmail(dot)com, (916) 500-4849.
About The Golden Poppy Revue: The Golden Poppy Revue (http://www.facebook.com/GoldenPoppyRevue) is a classically focused, bi-monthly burlesque/variety revue based out of the historical Colonial Theatre in Sacramento, California. Featuring both local talents and international headliners in all realms of entertainment (burlesque, boylesque, belly dance, swing/lindy hop, sideshow performers, singers, musicians, aerialists, comedians, etc.), the Golden Poppy Revue strives to assemble the most talented and accomplished performers to perform for audiences in the Sacramento region.
About Brown Paper Tickets: Brown Paper Tickets (http://www.brownpapertickets.com) is the socially conscious global leader for online ticketing and event registration services, helping people in 68 countries plan, promote and sell out events. As a social innovator, the company donates 5 percent of profits to charity with every ticket sold, supports a team of full-time community advocates, called "Doers," and still charges the lowest fee for ticketing and services in the ticketing industry. In 2014, Brown Paper Tickets was rated #1 for ticketing and event registration by http://www.FindTheBest.com, and #1 in customer service for the performing arts by Bay Area Dance Watch. The company will open its newest office in New York, N.Y. in 2014. To learn more about the world's only Not-Just-For-Profit ticketing company, visit http://community.brownpapertickets.com/press/.