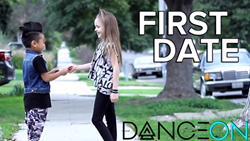 Los Angeles, CA (PRWEB) February 12, 2015
Love is in the air and there is no better way to convey passion than through dance. DanceOn Network, the leading multi-platform dance entertainment network with over 15-million subscribers, has compiled the most romantic dance videos of all time from movies, television shows and viral videos, just in time for Valentine's Day.
The list includes a creatively choreographed marriage proposal, Duo Main Tenan T's gravity-defying dance, Brad Pitt & Angelina Jolie's sexy tango dance and the ever-popular "Lover Boy Scene" with the late Patrick Swayze and Jennifer Grey from the classic movie Dirty Dancing, proving that after all this time, you still can't put baby in a corner. In addition, DanceOn will release two brand new videos as part of their Valentines Day programming content, featuring "young romantic" 8-year old DanceOn talents Aidan Prince and Reese Hatala dancing on the playground, and YouTube star dancers and real-life couple Ian Eastwood & Megan Batoon falling in love and dancing at a local Jamba Juice in Los Angeles. Both videos will feature music from emerging artist Trevor Wesley latest song, Chivalry is Dead.
Check out DanceOn's list of the "Top 10 Most Romantic Dance Videos of All Time" here: http://www.danceon.com/romanticvideos
Top 10 Most Romantic Dance Videos of All Time
10. Emily & Sean - Step Up Revolution
9. Duo Main Tenan T
8. Brad Pitt & Angelina Jolie - Mr. & Mrs. Smaith Tango Scene
7. "Isaac's Live Lip-Dub Proposal"
6. Ian Eastwood Choreography - "Half A Heart" by One Direction
5. Ed Sheeran - "Thinking Out Loud" Music Video
4. "You're The One That I Want" from Grease feat. John Travolta & Olivia Newton John
3. "Calling You" aka "Bench Dance" feat. Travis Wall & Heidi Groskreutz
2. Bob Marley's "Is This Love" featuring Keone & Mariel Madrid
1. The "Lover Boy Scene" from Dirty Dancing feat. Patrick Swayze & Jennifer Grey
Link to DanceOn Network's "Valentine's Day First Date!" feat. Aidan Prince & Reese Hatala:
https://www.youtube.com/watch?v=tBP6aJLqdwg
Link to Ian Eastwood's Choreography to Trevor Wesley's "Chivalry Is Dead":
https://www.youtube.com/watch?v=aZfR7qc0WVs
For more information about DanceOn and its network of over 650 dancers, visit http://www.danceon.com.
About DanceOn:
Co-founded by Madonna, CEO Amanda Taylor, Guy Oseary and Machinima CEO Allen DeBevoise, DanceOn was selected as part of YouTube's $100 million original content initiative and established itself as one of the top 10 premium YouTube channels. From reality competitions to docu-series, from scripted shows to user-generated content, DanceOn creates engaging programming, reaching a network of over 15 million users across social channels.
###