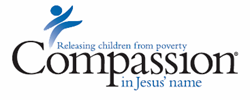 After sponsoring kids for over a decade, I know Compassion International provides help and hope where it's needed most. I'm looking forward to seeing more of what they do and sharing how others can be a part of that too. - Blogger Holley Gerth
COLORADO SPRINGS, Colo. (PRWEB) February 11, 2015
Next week, four well-known bloggers will join Compassion International on the organization's 13th Compassion Bloggers Trip. The bloggers will learn more about the global child development-through-sponsorship ministry and visit some of the world's poorest and most vulnerable children in Compassion's programs in the Dominican Republic.
To date, more than 7,500 children living in poverty have been sponsored through the efforts of Compassion bloggers. Daily visits to Compassion child development centers and other areas of great need will allow the bloggers to write and upload photos and videos to their blogs and social media from their own perspective on topics surrounding extreme poverty.
Bloggers on this tour include:

Readers can follow the Compassion bloggers Dominican Republic tour at http://compassionbloggers.com/trips/dr-2015/.
ABOUT COMPASSION INTERNATIONAL
Compassion International is the world's leading authority in holistic child development through sponsorship. Compassion revolutionized the fight against global poverty by working exclusively with the Church to develop children out of poverty to become responsible, fulfilled Christian adults. It is the only child sponsorship program to be validated through independent, empirical research. Compassion partners with more than 6,500 churches in 26 countries to release over 1.6 million babies, children and students from poverty in Jesus' name. Compassion has been awarded the highest rating for financial stewardship and transparency for 14 consecutive years by Charity Navigator, America's largest charity evaluator. For more information on the ministry, visit compassion.com or follow them on Twitter at @compassion.
# # #