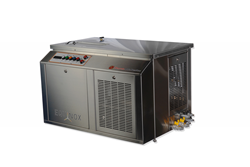 Baron Blakeslee's Equinox degreaser is the first of its kind offered by Baron Blakeslee and was created specifically for Honeywell's Solstice® Performance Fluid (PF).
Williamstown, West Virginia (PRWEB) February 12, 2015
Vapor degreasing is a process used to thoroughly clean a variety of materials without the use of water. Many current and prospective users of vapor degreasing processes are considering Solstice® PF due to its favorable environmental, health and safety characteristics. Solstice® PF has low ozone-depletion potential and lower global warming potential. In addition, it has superior cleaning performance on a variety of substrates.
Honeywell Solstice® Performance Fluid:
Honeywell's Solstice® solvent is a highly effective cleaning solution that is nonflammable, has favorable toxicity properties, a low global-warming-potential of 1, negligible ozone depletion, does not contribute to ground-level smog and is not a volatile organic compound (VOC) as determined by the U.S. EPA. It has low surface tension and is suitable for cleaning electronics, metal parts, medical devices and precision cleaning of mineral, silicone, cutting, vacuum, and fluorinated oils as well as silicone and heavy grease. Equinox Benchtop Degreaser was created exclusively for Solstice® PF Solvent, and is an ideal solution for new Solstice® PF users wanting to begin cleaning with Solstice® PF in a low risk, low cost way.
Introducing Equinox Benchtop Degreaser:
Equinox is a fully featured benchtop vapor degreasing system with a unique design made specifically for efficient and effective use of Solstice® PF. It provides a solvent-efficient benchtop equipment solution for former AK-225 users, an HCFC degreasing solvent, prohibited for most uses by the Clean Air Act under the Montreal Protocol. In many cases, Solstice® PF is an ideal replacement for AK-225, and Equinox provides an affordable, efficient means to use this new, more environmentally-friendly solvent.
Equinox is also compatible with any fluorinated or brominated vapor degreasing solvent.
Equinox is available with optional process enhancing features such as ultrasonic spray, which is able to enhance the cleaning of an immersed part, integrated material handling and automatic sliding cover.
Equinox II Coming Soon:
A larger, floor standing version with a bigger tank, called Equinox II, is coming soon. Beyond Equinox, Baron Blakeslee offers Solstice® PF cleaning systems in any size or custom configuration with a variety of handling options. Baron Blakeslee also offers Solstice® PF distillation systems.
About Baron Blakeslee:
With over 80 years of experience in the design, manufacture and implementation of industrial cleaning equipment, Baron Blakeslee has led the way in the development of powerful, eco-friendly machines. Our custom cleaning equipment, including solvent vapor degreasing systems, solvent recovery distillation systems and aqueous and semi-aqueous cleaning systems are built in our in-house, state-of-the-art facility in Williamstown, WV.
From our corporate headquarters in Northbrook, IL., we serve the following industries with our industrial cleaning equipment: aerospace manufacturing & maintenance, medical / dental device manufacturing, optics manufacturing, electronics manufacturing, jewelry manufacturing, weapons manufacturing & cleaning, automotive, metal finishing, tube cleaning, etc. For all of your industrial cleaning equipment needs contact us at 855.793.5173 or view our products online at http://www.baronblakeslee.net.