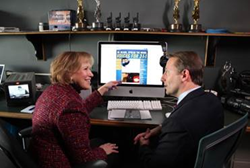 Westchester, N.Y. (PRWEB) February 10, 2015
United Ways in Westchester, Rockland and Putnam are partnering with County Executives Robert P. Astorino and MaryEllen Odell in challenging area high school students to participate in the second annual "Voices for 2-1-1" public service announcement (PSA) contest. The contest begins this Wednesday, Feb. 11 – National 2-1-1 Day. The competition aims to increase awareness of United Way's 2-1-1 helpline, while offering teenagers the opportunity to further develop their skills and to learn about careers in communications and media. Cash prizes will be awarded to the winners and the winning PSA's will be broadcast by 100.7 WHUD.
"Last year, we were very impressed with the submissions, and the students gained valuable insight into what they can expect from a career in the competitive communications industry," said Alana Sweeny, president and CEO of United Way of Westchester and Putnam.
In 2014, Raéchel Peterson, a senior at the BOCES Tech Center at Yorktown took first place for the inaugural PSA contest with her powerful submission: "When you have too much on your plate call 2-1-1."
"Students throughout Westchester, Rockland and Putnam can join in the contest by submitting a 60-second radio or video PSA by April 10," said Mimi Vilard, President and CEO of United Way of Rockland.
A PSA is a message that is broadcast by the media without charge with the goal of raising awareness about a social issue. The topics of the PSA's may be 2-1-1 services in general or a specific area of 2-1-1 assistance, such as one the following: food assistance, housing, employment, heating, abuse, elder care, mental health, substance abuse, medical help, foster parenting or disaster services.
"Many of our residents are not aware of the valuable services offered through United Way's 2-1-1 helpline," Astorino said. "With the help of our smart and creative high school students, we can change that, while at the same time cultivate these young minds for successful careers in communication."
"United Way's 2-1-1 is a critical service to Putnam County," said MaryEllen Odell, Putnam County Executive "I am so glad to see students, not only gaining experience, but also spreading the word to people in need about how to get help. "
The top three winners in each category (radio PSA and video PSA) will be chosen by a panel of judges representing media, government, nonprofit and corporate communications. The judges will also host a "Careers in Communications Day" at the three schools with the highest number of PSA submissions.
The "Voices for 2-1-1" contest judges are:

Kacey Morabito and Mike Bennett, hosts of Mike and Kacey in the Morning, 100.7 WHUD
Joe Beckerle, President, Beckerle Productions
Marissa Brett, President, Westchester County Association
Stacey Cohen, CEO and President, Co-Communications
Joseph Demarzo, Deputy Commissioner of the Putnam County Mental Health/Social Services/Youth Bureau
Ernie Garcia, Reporter, Journal News and LoHud.com
John Golden, Senior Writer, Westchester County Business Journal
Sue Guzman, Westchester Bureau Chief and Afternoon News Anchor with WHUD
Paula Kelliher, Area Director of Mall Marketing, The Westchester – The Galleria at White Plains
Alisa Kesten, Executive Director, Volunteer New York!
Bill Madden, Director of External Affairs, United Water New York
Jeanne Muchnick, Features Editor, Daily Voice
Carl Pagano, Program Coordinator, Westchester County Multimedia Department
Michelle Snyder, Sr. Director of Portfolio Marketing, PepsiCo
Lanning Taliaferro, Associate Regional Director, Patch
Britta Vander Linden, Communications Specialist/Economic Development, Office of the Westchester County Executive
The Westchester shopping mall in White Plains is the awards sponsor, providing first ($100), second ($75) and third ($50) place cash prizes to the winners. "We are so excited to be the award sponsor this year," said Paula Kelleher of The Westchester. "It is great to give these students recognition for all of their hard work."
United Way's 2-1-1 is a free, confidential, multilingual helpline that provides millions of people each year with health and human services information, referrals, crisis support and disaster recovery information. Governments and taxpayers in Dutchess, Orange, Putnam, Rockland, Sullivan, Ulster and Westchester reap substantial benefits from 2-1-1's presence that reduces the number of non-emergency calls made to 9-1-1 and helps get people to services before expensive emergency care is needed.
Additional information, last year's winning videos, rules of entry, and applications are available at http://www.uwwp.org/voices or by calling 914-997-6700 x720.
About United Way of Westchester and Putnam:
United Way of Westchester and Putnam operates with the fundamental belief that all people deserve a quality education, enough income to support a family, and opportunities for a healthy lifestyle. The not-for-profit organization works with agency partners, government, businesses and community leaders to solve problems that are too complex for any one entity alone. All contributions go toward improving the education, income, and health of the children, youth and families throughout Putnam and Westchester. United Way's 2-1-1, which covers Putnam as well as Westchester, Dutchess, Orange, Rockland, Sullivan and Ulster counties, answers hundreds of online inquiries and calls per day ranging from tax, heating, and mortgage questions to childcare, basic needs, natural disaster and crisis calls. United Way of Westchester and Putnam is located at 336 Central Park Ave., White Plains, NY 10606. They can be reached at 914-997-6700 or by visiting http://www.uwwp.org. Follow United Way on Facebook (http://www.facebook.com/UnitedWayWP) and Twitter (@UnitedWayWP) for the latest news and updates.