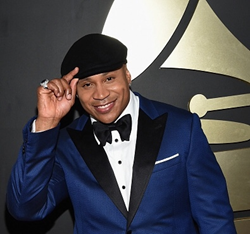 Kind of like how you would wear blue if you had blue eyes, it seems as though he's wearing a blue suit because of his jaw-dropping rock
New York, NY (PRWEB) February 11, 2015
Sunday February 8th, for the fourth consecutive year, LL Cool J hosted the 57th Grammy Awards held at Staples Center in Los Angeles, California. Looking sharp as always, this year he decided to suit up in a black & navy blue suit. LL Cool J iced it up with Avianne & Co jewelry; matching his suit he wore a Royal Collection Blue Sapphire pinky ring and matching cufflinks. The gems were handcrafted in luminous 14K Solid White Gold with a semi-precious Blue Sapphire Stone surrounded by brilliant round cut diamonds. The ring weighs to 25 grams and cufflinks weighs 23 grams. He wore this massive blinger on his right pinky ring - which happens to be the hand holding the mic.
"Kind of like how you would wear blue if you had blue eyes, it seems as though he's wearing a blue suit because of his jaw-dropping rock" - The Hollywood Reporter
At this year's most prestigious music awards, the host had the most exciting privilege of introducing AC/DC as the opening act. This year's Grammy Awards were a night to remember filled with top of the line fashion and performances by A-List International acclaimed musicians.
Avianne & Co's Royal Collection was initially designed for Birdman, co-founder of Cash Money Records but then became popular amongst many A-list musicians such as Future, Nicki MInaj Young Thug, Drake, and Justin Bieber.