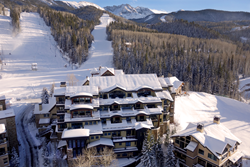 We're excited to welcome more guests to Lumière, our ski-in ski-out hotel, this season.
Telluride, Colorado (PRWEB) February 11, 2015
One lodging property in the small mountain town of Telluride, Colorado, is having a banner year in terms of national and international recognition. Forbes Travel Guide today unveiled its annual Star Rating list, naming Lumière hotel as a new Forbes Travel Guide Four Star Recommended hotel.Lumière is the latest addition to the luxury travel ratings that have been the gold standard in the hospitality industry since 1958. "Our Star Ratings recognize the finest hotels, restaurants and spas in the world. These ratings serve as the most authoritative guideposts for guests seeking exceptional travel experiences. Our primary mission is to contribute to excellence in hospitality, serving the global tourism industry as well as the guest," said Gerard J. Inzerillo, Chief Executive Officer of Forbes Travel Guide. "We're proud to be associated with the new additions to our global list." Just two weeks ago, U.S. News announced Lumière Telluride as the Best Hotel in Telluride, and the #2 hotel in the state of Colorado. This property also ranked #30 on the list of Best Hotels in the U.S.A.
"We have so much to celebrate," said Lumière General Manager Clare Afman. "These accolades are a true testament to the teams' commitment to excellence, to listening to our guests and to being creative in offering our guests the best adventures to experience this remarkable mountain destination. And we want to share our wonderful property with travelers who have not yet been here so we are offering a promotion, a 20% discount for all March stays if you book by February 15. We're excited to welcome more guests to Lumière, our ski-in ski-out hotel, this season."
Ski season will hardly have ended before Lumière and co-host Re:treat initiate their first summer yoga vacation called '4 Season Series'. This six- night experience, June 7-13, will feature yoga twice daily, hiking, sightseeing, delicious food and spa treats, with the focus on blissful relaxation. The hotel will follow this with special rates for lodging for the 9th annual summer Telluride Yoga Festival, July 9-15.
This year's prestitious awards from Forbes Travel Guide and U.S. News can be added to last year's impressive list of distinctions that includes Condé Nast Traveler's #2 Best Hotel & Resort in the West, a part of the Condé Nast Traveler Gold list, and #17 Best Boutique Hotel in the US by Red Envelope. Lumière Telluride earned the Certificate of Excellence Award from Trip Advisor in both 2013 and 2014, based on the quality of their reviews and the opinions of the hotel's guests.
About Lumière Telluride
This intimate, luxury boutique hotel is one of the newest lodging properties in Mountain Village, directly on the ski slopes of Telluride Mountain and high above the fabled town of Telluride. It is walking distance to shops and restaurants, and to the free gondola that runs from early morning until very late at night so that guests can easily go back and forth between the two delightful activity hubs. Accommodations include hotel rooms, residences from one to five bedrooms, and three penthouses.Ownership information is available.
Contact information:
Clare Evans Afman, General Manager
Lumière Telluride
118 Lost Creek Lane
Telluride, Colorado 81435
970.369.0400