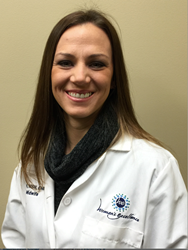 Lake Orion, Birmingham, Clarkston, Michigan (PRWEB) February 10, 2015
Renee Snow received a Bachelor of Arts degree in 2003, with a major in Psychology from Michigan State University and also earned a Bachelor of Science in Nursing degree in 2008, from the University of Detroit Mercy. Renee proceeded to earn her Master of Science in Nursing degree, with a major in Advanced Practice Nursing with Women, Neonates and Children and concentration in nurse-midwifery, in 2014 from Wayne State University. Her nursing experience includes cardiac step down, medical/surgical, Neonatal Intensive Care, and Labor and Delivery.
Renee is certified by the American Midwifery Certification Board, as a nurse midwife. She cares for women across the life span, with special interest in pregnancy, labor and delivery, postpartum period, health promotion, adolescent health, gynecology, family planning, birth control, and menopause.
Renee was born and raised in the Detroit Metropolitan area and attended Shrine High School in Royal Oak, Michigan. She is an avid runner and triathlete, having completed a marathon and half ironman. Renee is also a mother to the coolest nine year old boy around.
Renee believes very strongly in caring for women, for giving them choices, and for always empowering them with knowledge. Renee is here to provide education and to care for women, always supporting women in their health care decisions across the lifespan.
Women's Excellence is the most comprehensive obstetric and gynecologic office in Michigan. They also specialize in menopause, weight control, bladder control, endometriosis, robotic surgery, pelvic floor physical therapy, and midwifery services. The knowledgeable, well-trained, compassionate physicians and healthcare providers of Women's Excellence are taking new patients and are conveniently located in three locations throughout southeastern Michigan, Birmingham, Lake Orion and Clarkston. For more information, visit http://www.womensexcellence.com.