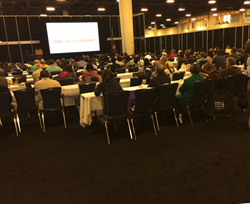 Genetic testing to help assess risk will be an essential part of that strategy. - Dr. Sanford Silverman
IRVINE, CA (PRWEB) February 11, 2015
Dr. Sanford Silverman, of Comprehensive Pain Medicine, Pompano Beach, FL and the Immediate Past President of the authoritative Florida Society of Interventional Pain Physicians (FSIPP), spoke on behalf of Proove Biosciences this past weekend at the Pri-Med South conference.
Pri-Med South, a three-day event, took place at the Broward County Convention Center in Fort Lauderdale, Florida. The conference gathered 4,000 primary care physicians with the intent of continuing their medical education in the ever-evolving world of health. Pri-Med's central mission is to improve patient outcomes by encouraging the collaboration of individual clinicians, allied health professionals, primary care physicians, and specialists alike.
The hour-long presentation illustrated the importance of The Emerging Field of Genetics and Pain Management throught Proove Testing. "Providing effective and safe treatment of chronic pain can be both challenging and entails risk. A complete history and physical examination, along with risk management strategies are essential when managing chronic pain patients with controlled substances," Dr. Silverman stated. "Genetic testing to help assess risk will be an essential part of that strategy".
Dr. Silverman sits upon Proove Biosciences' Medical Advisory Board, along with other eminent and reputable key opinion leaders in the field of health and genetics, such as Lynn Webster, MD, and Luda Diatchenko, MD, PhD. Proove continues to recruit and expand its Medical and Scientific Advisory Boards. In addition to the Medical Advisory Board Members being a preferred provider of the Company's tests, they also contribute to advance scientific research and publish in the scientific journals.
About Proove Biosciences
Our Mission is to Change the Future of Medicine. Proove is the proof to improve healthcare decisions. We seek to realize a future when clinicians look back and wonder how they could've ever prescribed medications without knowing how a patient would respond. With offices in Southern California and the Baltimore-Washington metropolitan area, the Company is the research leader investigating and publishing data on the genetics of personalized pain medicine with clinical research sites across the United States. Physicians use Proove Biosciences testing to improve outcomes – both safety and efficacy of medical treatment. From a simple cheek swab collected in the office, Proove performs proprietary genetic tests in its CLIA-certified laboratory to identify patients at risk for misuse of prescription pain medications and evaluate their metabolism of medications. For more information, please visit http://www.proove.com or call toll free 855-PROOVE-BIO (855-776-6832).