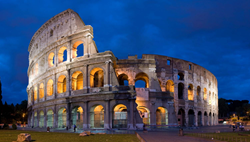 The amount of growth I got from these three weeks was more than I imagined.
Rome, Italy (PRWEB) February 12, 2015
CIAO! the Center for Introduction to Architecture Overseas, begins its fourth session July 4 - 25, 2015 in Rome, Italy. CIAO! immerses students in architecture, landscape architecture and urban planning. Using Rome as a living laboratory students study its morphology from ancient to modern times culminating in a visit to the MAXXI museum by world-renowned architect, Zaha Hadid.
The program then gives students hands-on design practice in the hill-town of Capranica, where they work on a project in an atelier environment with a real site and client: the Mayor and City Council to whom they present at the end of the program. The students master freehand sketching, model-making and designing with Google SketchUp. Student work is documented for use in portfolios for college application.
A former Fulbright Fellow in Rome, program director Gail Whitney Karn, AIA says, "Our purpose is to teach young adults about the built environment from a holistic and eco-friendly perspective in order that they can make good decisions about their careers and learn to build sustainably in this world of burgeoning populations and diminishing resources." After three intensive weeks of classes, tours, studio work and discussions, students come away with sharpened capabilities and an understanding of architecture's possibilities.
By partnering and working with faculty and connecting with students at La Sapienza, University of Rome, the CIAO! program delivers a cost-effective experience that is hard to match. One student said, "the CIAO! program was one of the most profound experiences I've had in my young life." Alums of the program have been accepted into top schools in the USA and abroad including Syracuse, UCLA and Berkeley. Participants have come from across the USA and around the globe including Scotland, Japan and Mexico.
CIAO! is run by the international Center for Sustainable Urbanism (CFSU), which was founded by Karn and her husband, Robert M. Karn, AIA, LEED. The Karns are Harvard Graduate School of Design graduates, have practiced and taught architecture and urban design in Boston, Denver and San Francisco as well as in Italy and Germany.
Contact: Robert M.Karn, President
Center for Sustainable Urbanism
ATTN: CIAO! program
25 Essex Street, #3
Andover, MA 01810
Phone: +1-978-760-1183
Email: director(at)ciao-cfsu(dot)org
Web: http://www.ciao-cfsu.org/