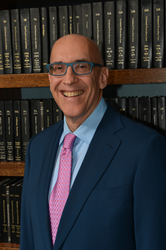 New York personal injury lawyer Edward Gersowitz of Gersowitz Libo & Korek, P.C. announced that the firm obtained a ruling that allowed their client to proceed with a case under New York Scaffolding Law Section 240(1)
NEW YORK, NY (PRWEB) February 11, 2015
Edward Gersowitz, a personal injury attorney at Gersowitz Libo & Korek, P.C., one of New York's leading personal injury firms, obtained a major ruling that entitled his client to judgment as a matter of law under state Labor Law §240(1) to proceed with his case for injuries caused by the warehouse owner's failure to provide safety precautions.
About the Lawsuit
According to court documents, on February 8, 2011, Scott Canfield, a movie set dresser, was injured during the production of a movie. He fell approximately 10 feet to the concrete floor while attaching thatch-like panels to the roof of a faux tiki hut, which was intended to recreate the island of Bali in the film. Canfield was working from a plywood-floored platform, which had been raised by a forklift to the level of the fake hut's roof when the fall occurred.
Edward Gersowitz represented Canfield in filing suit against Forman Jay LLC, the owner of the warehouse, where part of the movie was filmed. According to court records, Gersowitz filed a motion for summary judgment on liability based on Labor Law §240(1), amongst other things.
The Ruling
The court records show that Brooklyn Supreme Court Justice Francois Rivera held that Mr. Gersowitz made a prima facie showing that Forman Jay violated state law by failing to provide Canfield with better protection from falling. Justice Rivera further ruled that the criteria under §240(1) was satisfied by showing that Canfield was working at an elevation, that he suffered a fall from a height, and that he was not provided with the safety devices enumerated under the scaffold law. [Supreme Court of the State of New York County of Kings County, Index Numbers: 13512/12].
"Justice Rivera's opinion really hits home about why you really need protections for workers today and the scaffold law is at the forefront of worker protection," Mr. Gersowitz said.
About Gersowitz Libo & Korek, P.C.
The construction accident attorneys at Gersowitz Libo & Korek, P.C. are committed to the relentless pursuit of victim's rights in New York and New Jersey for over 25 years. They urge anyone who has suffered injuries on construction sites as a result of the negligent actions of another party to contact them immediately. The experienced legal team knows the law and will aggressively fight to get victims the full extent of the compensation they deserve.
Contact:
Edward Gersowitz
Gersowitz Libo & Korek, P.C.
111 Broadway, 12th Floor
New York, NY 10006
(212) 385-4410
http://www.lawyertime.com/