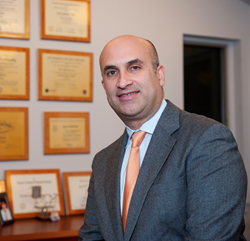 We try to make sure we get patients back to their usual level of activity, work and hobbies, without any pain or discomfort, at the lowest possible level of intervention - Dr. Yaghoubian
New Milford, CT (PRWEB) February 26, 2015
Dr. Robert Yaghoubian is dedicated to restoring his patients' quality of life. As the region's leading specialist in orthopedic disorders of the upper extremity – from shoulder to elbow to hand, and all points in between – he helps patients regain their normal range of movement, as quickly and painlessly as possible.
With his surgical subspecialty training, Dr. Yaghoubian's expertise is comprehensive. He cares for the full range of upper extremity needs, extending from the shoulder's rotator cuff to the finger tips. His day-to-day practice includes sports related injuries and common usage conditions, as well as complex reconstructive and joint replacement surgeries. He has recently brought the Reverse Shoulder Replacement surgical technique to Sharon Hospital in Sharon, CT, expanding the treatment options for his patients and making this state-of-the-art procedure available to the regional community.
Dr. Yaghoubian also offers advanced expertise in microsurgery for shoulder, elbow and hand. Microsurgery deals with the repair of small structures such as nerves and blood vessels.
Expanded hours in New Milford Orthopedics' Sharon office make access even greater. Dr. Yaghoubian now sees patients on Wednesdays, Fridays and every other Monday.
Dr. Yaghoubian's philosophy of care is to be as non-invasive as each individual patient's condition allows. "We try to make sure we get patients back to their usual level of activity, work and hobbies, without any pain or discomfort, at the lowest possible level of intervention," he affirms. "In that sense, our approach is conservative. The patient's comfort and speed of recovery are always key factors."
In addition to Dr. Yaghoubian's conservative approach, patients are reassured by his extensive knowledge base. His practice offers the right mix of the latest, most innovative techniques combined with his 17 years experience in upper extremity care. He is a fellowship-trained specialist who holds diplomas from NYU School of Medicine, NYU Hospital for Joint Disease and University of Pittsburgh Medical Center.
As a member of New Milford Orthopedics, Dr. Yaghoubian works closely with other health professionals, caring for patients throughout northwest Connecticut, the Hudson Valley region and souuthern Berkshires. He works collaboratively with his patients' primary care doctors and even welcomes referrals from personal trainers who are observing mobility issues in their clients. As noted by healthcare providers at Nordicare Physical Therapy in Sharon, CT, "Dr. Yaghoubian's extremely professional and responsive approach to patient care is unique in the area. For over 15 years, we've seen his patients heal quickly, often ahead of schedule with excellent results."
Patients of all ages, from teenagers in school sports programs to adults with sports or common usage injuries, to geriatric patients with advanced wear-and-tear, can rely on Dr. Yaghoubian for the right solutions to musculoskeletal conditions of the shoulder, hand and upper extremity. His expanded office hours in the Sharon, CT office ensures more patients with these issues will get the help they need.
About New Milford Orthopedics:
New Milford Orthopedics offers a full range of surgical and non-surgical orthopedic care. Main offices are in New Milford and Sharon, with satellite offices in Brookfield, Newtown and Pawling (NY). The practice offers on-site radiologic services including X-ray and Magnetic Resonance Imaging (MRI). New Milford Orthopedics is a member of OrthoConnecticut, along with Danbury Orthopedics and Coastal Orthopedics, providing comprehensive care to the community. The goal of the combined practices is to help patients regain mobility, lead active lives and attain optimal wellbeing. To make an appointment or learn more about New Milford Orthopedics, please visit w ww.newmilfordortho.com or call (860) 355-8000.