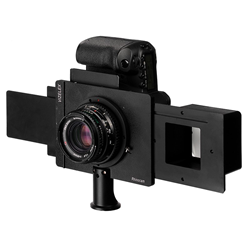 Waukegan, IL (PRWEB) February 11, 2015
Fotodiox Pro, a leading manufacturer and distributor of high-quality photography and videography accessories, has announced four new models of its popular Vizelex RhinoCam system for DSLR and mirrorless cameras. A portable, tough-as-nails solution for shooting distortion-free medium format sized shots, the RhinoCam harnesses the resolving power of a medium format lens using either a mirrorless camera or a DSLR, resulting in finished images measuring hundreds of megapixels. New models of the RhinoCam are now available for Nikon and Canon DSLR cameras (either full frame or APS-C sensor), and joining the original Sony E-Mount version are new models for Canon EOS M and Fujifilm X-mounts.
"Medium format photography has a passionate and dedicated fan base—one that includes a lot of independent photographers who have great vision, but not necessarily a great budget for gear," said Bohus Blahut, marketing director for Fotodiox Pro. "RhinoCam gives photographers an affordable and portable method to harness gorgeous, highly-detailed images using classic medium format lenses and their mirrorless or DSLR camera—all without investing tens of thousands of dollars in a dedicated medium format camera system. RhinoCam is compact, durable, affordable and only requires a few extra minutes to set up. We're thrilled that we can finally deliver medium format imaging power to photographers using some of the world's most popular cameras."
The RhinoCam system allows photographers at any level to capture the high-quality resolution, detail and sharpness found in images taken with medium format cameras, while still enabling them to explore their choice of low-cost camera sensor options and classic lenses. When fully assembled for shooting, the camera lens remains firmly in place while the RhinoCam's moving platform positions the sensor for multiple precisely-positioned exposures after previewing the composed shot via the built-in Composition Screen.
After the capture process, it takes seconds to merge the multiple exposures into one larger image using automated stitching functions built into Adobe(r) Photoshop(r) and other software options. The result is a 645 medium format sized photograph that is many multiples of the normal resolution of a high-end, full-frame 35mm camera sensor. Photographers are encouraged to visit the RhinoCam's dedicated Flickr group to view examples of the system's capabilities, as well as Fotodiox Pro's new RhinoCam video.
Pricing & Availability
All four of the new models of the Vizelex RhinoCam system are available immediately for the following prices:

Vizelex RhinoCam for Canon EOS Cameras (EF Full Frame & EF-s APS-C) with Hasselblad V Lens Mount - $399.95
Vizelex RhinoCam for Nikon DSLR Cameras (FX Full Frame & DX APS-C) with Hasselblad V Lens Mount - $399.95
Vizelex RhinoCam for Canon EOS M Mount Cameras (EF-M, such as EOS M, EOS M2) - $299.95
Vizelex RhinoCam for Fujifilm X-Mount Cameras (such as Fuji X-Pro1, X-E2, X-T1) - $299.95
To learn more about this and other photography and videography accessories, please visit FotodioxPro.com.
About Fotodiox
Serving the photo and video markets since 2004, Fotodiox Pro is a leading manufacturer and distributor of high-quality, professional and affordable photography and videography accessories. Fotodiox Pro is known for its WonderPana mounts and accessories, Vizelex line of high-end camera systems and adapters, and the ever expanding line of award-winning GoTough accessories for GoPro cameras. The company also markets a full line of specialty lighting equipment, including LED light panels, flash strobes and wedding photography kits, daylight fluorescent lighting, tungsten lighting and video lighting kits, and the award-winning LED 100WA. For more information about Fotodiox Pro, please visit http://www.fotodioxpro.com, http://www.youtube.com/user/FotodioxInc, http://www.facebook.com/Fotodiox and http://www.twitter.com/Fotodiox.