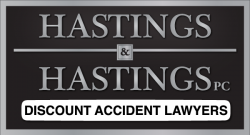 Phoenix, AZ (PRWEB) February 18, 2015
Hastings and Hastings, a focused and dedicated discount attorney in Arizona that offers free consultations reports record demand heading into 2015 for legal representation that involves negotiating with insurance companies. The firm has stated on multiple occasions that its primary objective is to offer genuine discount attorney's fees while never discounting service. This has resulted in clients over the decades saving millions of dollars cumulatively. From brain injury accidents to road rash related accidents and spinal cord injury type accidents, Hastings and Hastings has a team of professional experienced attorneys that are located throughout 11 convenient locations in the greater Phoenix metropolitan area. The firm's attorneys have years of experience in the industry and are closely monitored by the firm to ensure peak levels of quality control.
With a total number of years of experience that exceeds 30 years, Hastings and Hastings provides focused personal injury and automobile accident related legal services in the state that are designed to help accident victims recover losses. The firm has stated in the past that it understands the overwhelming nature of hiring an attorney after having been involved in an accident that results in injuries. As such, the firm offers positive solutions for clients so that they are better able to handle the stress associated with a wide variety of accidents. Hastings and Hastings has also said in the past that it feels that a reputation is earned and not given. The firm has steadfastly worked to build and maintain a trusted and respected reputation in the legal field, with clients and throughout the community over the years.
Equally impressive is the fact that the firm continues to enjoy impressive numbers of referrals from existing and former clients. This illustrates the genuine personal care and detailed attention that is provided to injury and car accident victims who choose to work with Hastings and Hastings. Each accident is handled with extraordinary dignity and the respect that clients expect and deserve. Saving clients money through aggressive discount fees along with providing personalized care are just a few of the core advantages of choosing Hastings and Hastings.
From handling investigations to negotiating with insurance agencies and taking a recovery effort to full trial, Hastings and Hastings addresses all aspects of personal injury law. The firm provides clients with what is known as a no fee promise. This simple and straightforward promise states that if there is no recovery there will be no fees due at any time by the client. There is no ambiguity and no confusion in this regard. There must be a recovery or there will be no fees. This recent announcement with regard to record demand heading into 2015 for legal representation that involves negotiating with insurance companies is further evidence that Hastings and Hastings is a law firm that provides clients with the focused legal representation.
Hastings and Hastings is a leading provider of discount personal injury legal services located in and serving the greater Phoenix Metropolitan area. This respected legal firm specializes in assisting individuals that have been the victim of serious injuries that have resulted from accidents that were not fault of their own. Hastings and Hastings is a trusted group of attorneys that deliver personalized service and guidance for injury victims throughout Phoenix and all across the state of Arizona. Hastings and Hastings is known throughout legal circles as a dedicated team of professionals and a law firm that has been representing accident victims throughout Arizona for decades. Hastings and Hastings has consistently exceeds client's expectations with regard to representing a wide array of accident related injury victims at times when it matters the most and always doing so with discount attorney's Fees.