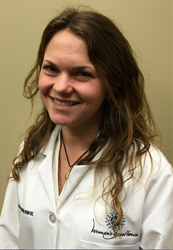 Lake Orion, Birmingham, Clarkston, Michigan (PRWEB) February 10, 2015
Sarah Degnan CNM, CPNP graduated from the University of Michigan in 2014 with a Master of Science in the combined Nurse-Midwifery and Pediatric Nurse Practitioner program. Special interests include providing primary care services, adolescent health, birth control, and natural childbirth.
Sarah started her nursing career after receiving her BSN from Michigan State University in 2009 and was an emergency room nurse for 5 years. It was through her experience doing ER nursing that Sarah decided to pursue an education focusing on caring for women and children. Sarah has also spent time teaching undergraduate nursing students at the University of Michigan and Baker College.
Currently, Sarah practices part time as a Pediatric Nurse Practitioner in Troy and part time as a Certified Nurse-Midwife at Women's Excellence.
Women's Excellence is the most comprehensive obstetric and gynecologic office in Michigan. They also specialize in menopause, weight control, bladder control, endometriosis, robotic surgery, pelvic floor physical therapy, and midwifery services. The knowledgeable, well-trained, compassionate physicians and healthcare providers of Women's Excellence are taking new patients and are conveniently located in three locations throughout southeastern Michigan, Birmingham, Lake Orion and Clarkston. For more information, visit http://www.womensexcellence.com.