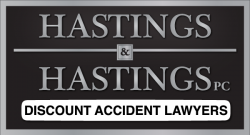 Phoenix, AZ (PRWEB) February 19, 2015
Hastings and Hastings, a respected and trusted name in Phoenix Arizona personal injury law announces record demand for workplace injury related legal representation in Phoenix. The firm has been serving the region for well over 30 years with dedicated and focused personal injury legal representation. Accidents happen at home and in the workplace that often require an experienced and professional personal injury lawyer as a way to initiate a recovery. Lost wages, extensive medical bills and pain and suffering often demand that an injury victim seek a recovery. Hastings and Hastings has been working with accident victims for decades and has earned a reputation over the years for providing clients with personalized service and incredible attention to detail when it comes to negotiating a recovery or taking a recovery attempt to trial.
The firm has convenient office locations throughout the Valley letting clients know that there is likely an office someplace nearby. Another important aspect of the Hastings and Hastings difference is that accident victims who are unable to travel can request that a Hastings and Hastings lawyer visit them at home or in the hospital. This is an added advantage that many other firms simply do not offer. The firm has stated on multiple occasions that it does whatever is necessary to make the entire recovery process easier and more manageable for those who have serious and even life-threatening injuries. From brain injuries to spinal cord injuries and wrongful death related events, Hastings and Hastings has assisted thousands of clients over the decades.
The firm has well over 150 years of combined legal experience that it puts to work for clients when they had been injured due to the negligence of another person of company. Offering free consultations with a licensed attorney and not a paralegal or salesperson means that clients enjoy accurate and detailed legal considerations from the outset. By saving clients money through discount attorney's fees, Hastings and Hastings helps to ensure that those injured in some type of accident have greater financial resources to take on a wide range of medical problems and the unfortunate struggles associated with lost wages.
Boasting a team of qualified and experienced personal injury lawyers who focus on a wide range of auto accident injuries and injuries obtained in many other ways, the firm has stated in the past that its main objective is to take the pressure off of victims of accidents so that they can focus on the healing process and their families. Each attorney that joins the Hastings and Hastings team is carefully hand selected and closely supervised by the firm. This recent announcement with regard to record demand for workplace injury related legal representation in Phoenix is more clear evidence that Hastings and Hastings is a firm that enjoys a favorable reputation throughout the community, among peers and with existing as well as previous clients.
Hastings and Hastings is a leading provider of discount personal injury legal services located in and serving the greater Phoenix Metropolitan area. This respected legal firm specializes in assisting individuals that have been the victim of serious injuries that have resulted from accidents that were not fault of their own. Hastings and Hastings is a trusted group of attorneys that deliver personalized service and guidance for injury victims throughout Phoenix and all across the state of Arizona. Hastings and Hastings is known throughout legal circles as a dedicated team of professionals and a law firm that has been representing accident victims throughout Arizona for decades. Hastings and Hastings has consistently exceeds client's expectations with regard to representing a wide array of accident related injury victims at times when it matters the most and always doing so with discount attorney's Fees.