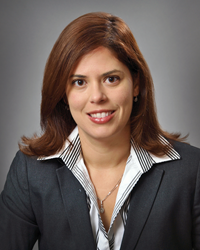 (PRWEB) February 12, 2015
Enhancing the corporate tax practice of its local Technology & Life Sciences Group in Washington, D.C., nationally recognized public accounting firm Cherry Bekaert LLP ("the Firm") is delighted to welcome Yolimar "Yoli" Martinez-Nadal as a Tax Partner.
In this capacity, Martinez-Nadal will advise clients within the Firm's Technology & Life Sciences industry group on tax structuring, mergers and acquisitions, due diligence, and financial reporting under ASC 740 provisions. She will focus her efforts on companies with complex international operations, including the coordination and planning required for balancing domestic and international tax strategies, and offer expertise on matters regarding choice of entity, capitalization and maximizing net operating loss usage.
"Supporting middle market companies and corporate clients in regard to their tax compliance and planning needs, Yoli's arrival will help drive the ongoing growth of our Firm's Technology & Life Sciences Group," says Susan J. Moser, Managing Partner of Cherry Bekaert's Washington, D.C., practice. "Also familiar with managing multifaceted corporate and partnership tax returns and various tax issues, Yoli is a proven leader who will offer our clients innovative strategies for improving their bottom lines."
With over 14 years of experience, Martinez-Nadal has provided corporate tax consulting services to publicly-traded companies, privately-owned businesses and high-profile clients. Additionally, she has worked with other middle market companies including government contracting, professional services and financial services firms. Prior to joining Cherry Bekaert, Martinez-Nadal spent five years at a top ten professional services firm, and eight years with a Big Four firm.
A Certified Public Accountant licensed in Virginia and Washington, D.C., Martinez-Nadal maintains professional memberships with the American Institute of Certified Public Accountants, Northern Virginia Technology Council and Virginia Biotechnology Association, and is involved with community organizations like ChildHelp and the Fairfax County Chamber of Commerce. Earning a Bachelor's of Science in Accounting and a Masters of Taxation degree, she is an alumna of American University.
About Cherry Bekaert LLP
As a nationally recognized, growth-oriented firm, Cherry Bekaert has the resources to take your business as far as you want to go. The Firm's industry specialists already know your marketplace, so they can help you make the most of emerging opportunities while minimizing compliance headaches. With their down-to-earth style and wealth of practical advice, you will find Cherry Bekaert an indispensable part of your team.
Ranked among the largest accounting firms in the country, Cherry Bekaert specializes in offering solutions that impact their clients' ability to grow. For more than 65 years, global corporations, private businesses, government entities, nonprofits, emerging firms and successful individuals have relied on Cherry Bekaert to guide them forward as their growth partner.
Cherry Bekaert LLP is an independent member of Baker Tilly International. Baker Tilly International is the world's 8th largest accountancy and business advisory network by combined fee income of its independent members. Baker Tilly International member firms specialize in providing accountancy and business advisory services to entrepreneurial, growing businesses and mid-market listed corporates worldwide. | cbh.com