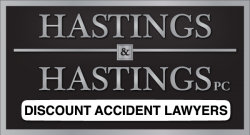 Phoenix, AZ (PRWEB) February 20, 2015
Hastings and Hastings, a law firm in Arizona that offers discount fees to clients announces a record number of client referrals heading into 2015. As with any industry, the number of client referrals is often a good indicator as to the overall quality and reliability of any business or law firm. With that said Hastings and Hastings has established itself as a focused, dedicated and professional law firm in the greater Phoenix metropolitan area when it comes to a wide array of personal injury accidents. From motorcycle accidents to bicycle accidents and dog bite related accidents as well as slip and fall accidents in the home and in the workplace, Hastings and Hastings is a firm that offers clients decades of experience and a reputation that speaks for itself.
Hastings and Hastings is a firm that fights for the client while saving clients money through its innovative and respected discount fee structure. Saving clients a considerable amount of money over the decades, Hastings and Hastings has proven year after year to be a firm that stands behind its promises. The firm has experienced a steady increase in client referrals in the last several years and continues to see the same trend heading into 2015. As the word spreads about the experienced legal representation and genuine discount fees offered by Hastings and Hastings a growing number of accident victims are turning to the firm for guidance and help.
The firm makes available to each and every accident victim client a "no fee" related promise. This promise simply states that if there is no recovery that the accident victim client is not responsible for any type of legal fees. This is intended to benefit clients so that they are not further burdened by unnecessary expenses when dealing with medical bills and lost wages. In addition, Hastings and Hastings makes a guarantee to clients that if there is no recovery that even the costs typically associated with the recovery effort will be waived. This is further confirmation that Hastings and Hastings is a law firm that always keeps the client's best interest in the forefront.
The hallmark of the Hastings and Hastings discount fee structure is that it equates to more money for the client. When clients have greater financial or monetary resources they are better able to address mounting long-term medical care related expenses and the losses associated with not being able to work. By working for clients on a contingency fee basis, the firm makes it clear that it puts the client first every time. This recent announcement with regard to a record number of client referrals heading into 2015 is further proof that Hastings and Hastings is a law firm in Arizona that has earned the respect and admiration of the community, its peers and the industry.
Hastings and Hastings is a leading provider of discount personal injury legal services located in and serving the greater Phoenix Metropolitan area. This respected legal firm specializes in assisting individuals that have been the victim of serious injuries that have resulted from accidents that were not fault of their own. Hastings and Hastings is a trusted group of attorneys that deliver personalized service and guidance for injury victims throughout Phoenix and all across the state of Arizona. Hastings and Hastings is known throughout legal circles as a dedicated team of professionals and a law firm that has been representing accident victims throughout Arizona for decades. Hastings and Hastings has consistently exceeds client's expectations with regard to representing a wide array of accident related injury victims at times when it matters the most and always doing so with discount attorney's Fees.