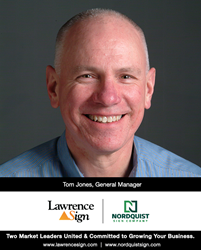 This promotion is a reflection of Tom's commitment to excellence and his proven leadership abilities.
Minneapolis, MN (PRWEB) February 10, 2015
Jones' unique skill set of strategically assisting customers from coast to coast in developing their branding image and simultaneously successfully managing corporate operational responsibilities led to his appointment as General Manager.
"I'm very pleased to be a part of the company's success. This promotion is an important career opportunity and I look forward to working with the entire team in continuing to deliver extraordinary visual branding results to our customers," said Jones.
Robb Walker, CEO of Lawrence Sign and Nordquist Sign, said, "Tom's leadership is a significant factor in Nordquist Sign and Lawrence Sign achieving a three-year, 15 percent compound annual growth rate and being a major North American presence. Early on, when Tom Jones worked for Superamerica, I identified him as a strong talent. After 25 years with Superamerica, Tom agreed to accept the position of National Install Manager and his career has skyrocketed from that time. This promotion is a reflection of Tom's commitment to excellence and his proven leadership abilities."
Walker continued, "We are committed to finding and training the best and the brightest individuals to serve our customers. Having leaders like Tom on board make this recruitment possible and facilitates building the highest quality workforce. Our entire team congratulates Tom on his well-deserved promotion."
About Lawrence Sign & Nordquist Sign
For more than 80 years, Lawrence Sign has been assisting prominent companies to grow with new locations coast to coast with their multi-site sign program. Lawrence Sign proactively manages every aspect of their customers' sign programs including design, regulatory compliance, fabrication and installation and ongoing maintenance.
Lawrence Sign utilizes advanced technologies and expansive facilities to provide direct in-house control of the entire sign fabrication process. The Company excels at serving companies with a multi-site national and international presence.
Nordquist Sign has been fabricating and installing interior and exterior signage, architectural elements and way-finding signage for more than 100 years. Nordquist's customer base and scope of work includes custom signage and environmental graphics for hospitals, sports facilities, themed entertainment, corporate/financial and mass transit industries. Nordquist Sign also maintains a gaming division with offices in Las Vegas, NV and St. Paul, MN to serve casino gaming markets throughout the United States.
In early 2012, Lawrence Sign combined with Nordquist Sign to unite the unique resources and capabilities of the two companies. Together, Lawrence Sign and Nordquist Sign offer their clients more than 175 years of experience in sign manufacturing and installation for all facets of the signage industry.