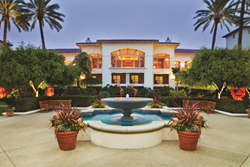 We are truly honored to receive Park Hyatt Aviara's first Five-Star rating from Forbes Travel Guide.
CARLSBAD, Calif. (PRWEB) February 11, 2015
Park Hyatt Aviara Resort in North San Diego announced today that it was honored with a Five-Star rating from Forbes Travel Guide in its annual Star Rating list, one of the highest global hospitality accolades. Only 115 properties worldwide achieved this prestigious honor in 2015. Park Hyatt Aviara was selected as a Forbes Five-Star recipient for its highly personalized service, quality amenities and ability to create enriching and truly memorable experiences for guests.
"We are truly honored to receive Park Hyatt Aviara's first Five-Star rating from Forbes Travel Guide," said Park Hyatt Aviara General Manager Ulrich Samietz. "This prestigious accolade is a tribute to my incredible colleagues who work tirelessly to ensure a high level of excellence. Their priority is to engage each guest, anticipate needs, and go beyond guest expectations to ensure a memorable Park Hyatt Aviara experience."
Leading up to this award, Park Hyatt Aviara has made significant enhancements to the resort over the last few years. The property underwent a comprehensive multi-million dollar renovation in 2013 that modernized its 327 guestrooms and casual dining restaurant, California Bistro, in addition to creating several outdoor living spaces such as fire pits where guests can socialize over a glass of wine complemented by views of the Pacific Ocean. The resort has hosted the prestigious LPGA Kia Classic golf tournament for the past two years on its award winning Arnold Palmer-designed championship golf course, named by Golf Digest and Golf Magazine as one of the best resort golf courses in America. The guest experience is always at the forefront of attention, and the resort introduced several new programs to engage with it customers, such as the acclaimed Masters of Food & Wine quarterly events that introduce guests to local culinary craftsmen. These additions – along with distinctive dining at four on-site restaurants and a celebrated 15,000 square foot wellness spa – all add to the Five-Star experience.
Representing the upper echelon of the hospitality industry, Forbes Five-Star hotels provide an outstanding experience through the finest of service and amenities, and an intuitive, engaging and passionate staff. To determine the annual ratings, Forbes Travel Guide sends out teams of experts to anonymously rate and score each property on up to 800 service and facility standards.
"Our Star Ratings recognize the finest hotels, restaurants and spas in the world. These ratings serve as the most authoritative guideposts for guests seeking exceptional travel experiences. Our primary mission is to contribute to excellence in hospitality, serving the global tourism industry as well as the guest," said Gerard J. Inzerillo, Chief Executive Officer of Forbes Travel Guide. "We're proud to be associated with the new additions to our global list."
To experience Park Hyatt Aviara Resort's award-winning service and luxurious accommodations, please visit http://www.parkhyattaviara.com or call reservations at 760.448.1234.
For a detailed explanation of how Forbes Travel Guide compiles its Star ratings, visit
http://www.forbestravelguide.com/about/ratings.
About Park Hyatt Aviara Resort
Secluded amidst 200 acres of verdant hillsides and rolling valleys within the master-planned community of Aviara, Park Hyatt Aviara Resort provides an appealing setting for any function. The resort's Spanish colonial architecture welcomes with a sense of casual elegance. Each of the 327 spacious guest rooms – including 44 suites – features a private balcony or landscaped terrace offering magnificent views. Expansive facilities for meetings and special events are enhanced by complete resort amenities, from acclaimed dining at four on-site restaurants, to a full-service spa, swimming, tennis, a fitness center and an Arnold Palmer-designed 18-hole championship golf course. Follow Park Hyatt Aviara on Twitter, @ParkHyattAviara and become a fan on Facebook at http://www.facebook.com/ParkHyattAviara.
About Park Hyatt
Park Hyatt hotels provide discerning, affluent business and leisure guests with elegant and luxurious accommodation and offers them highly attentive personal service in an intimate environment. Located in several of the world's premier destinations, each Park Hyatt hotel is custom designed to combine sophistication with a distinctive regional character. Park Hyatt hotels feature well-appointed guestrooms, meeting and special event space for groups, critically acclaimed art, food and beverage programs, and signature restaurants featuring award-winning chefs.
There are currently 35 Park Hyatt hotels in the following locations: Abu Dhabi, Beaver Creek, Beijing, Buenos Aires, Busan, Canberra, Carlsbad, Changbaishan, Chennai, Chicago, Dubai, Goa, Hamburg, Hyderabad, Istanbul, Jeddah, Maldives, Melbourne, Mendoza, Milan, Moscow, New York, Ningbo, Paris, Saigon, Sanya Sunny Bay, Seoul, Shanghai, Siem Reap, Sydney, Tokyo, Toronto, Vienna, Washington D.C., and Zurich. http://www.parkhyatt.com
About Forbes Travel Guide
Forbes Travel Guide, formerly Mobil Travel Guide, is the originator of the prestigious Five-Star Rating system, and has provided the travel industry's most comprehensive ratings and reviews of hotels, restaurants and spas since 1958. Forbes Travel Guide has a team of expert inspectors who anonymously evaluate properties against up to 800 rigorous and objective standards, providing consumers the insight to make better-informed travel and leisure decisions. Forbes Travel Guide is the gold standard for luxury hospitality ratings worldwide. For more information about Forbes Travel Guide, visit ForbesTravelGuide.com.
ForbesTravelGuide.com combines the objectivity and heritage of the Forbes Travel Guide Star Rating system with insightful recommendations from a hand-selected group of travel experts, tastemakers and Forbes Travel Guide inspectors. ForbesTravelGuide.com is the sole online destination for Forbes Travel Guide's list of Star Rated hotels, restaurants and spas, and gives its registered members exclusive access to special offers and curated experiences from select Forbes Travel Guide partners.