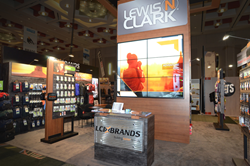 "We received many compliments about the design and layout from staff, attendees, and other exhibitors," said Cherie Corbisiero, Director of Marketing Services.
Elk Grove Village, IL (PRWEB) February 24, 2015
As part of the company's rebranding, LCI Brands™ debuted their new booth design at the Outdoor Retailer Winter Market. In addition to its effortless flow of traffic, the booth features a rich, natural wood finish as well as digital and interactive elements.
The new layout is also optimized for easy modification while still maintaining consistent messaging across different booth sizes, shows, and markets, and the large scale graphics provide key brand messaging as well.
The space allows easy entry for attendees and open sightlines for booth staffers. Additionally, the design focuses on creating a lifestyle connection to both internal and partner brands.
"If a picture is worth a thousand words, our booth is worth much more. An exhibitor doesn't always have a lot of time to convey the spirit of their company with words during trade shows. But if the booth captures the essence, it leaves a visual impression that reinforces the story," said Cherie Corbisiero, Director of Marketing Services.
The larger version of the booth will debut at the Travel Goods Show in March.
About LCI Brands
LCI Brands, formerly known as L.C. Industries, Inc., began with the manufacturing of luggage caddies in 1971. Since then, it has expanded to offer over 500 products in categories such as security, comfort, organization, and health. LCI Brands has several internal brands, including Lewis N. Clark®, Belle Hop®, and UrbanGear™. For more information, visit http://www.lcibrands.com