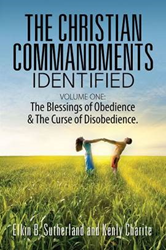 The key to spiritual wisdom is education!
(PRWEB) February 16, 2015
"The Christian Commandments Identified" provides the requirements needed to receive God's blessings. It also helps readers obtain the spiritual skill sets needed to overcome anguish and reap the benefits of applying God's principles. The key to this is education.
Many are ignorant of God's Commandments, which makes them struggle spiritually, socially, and financially. Their ignorance prohibits them achieving spiritual wisdom and the understanding required to inherit the blessings and protection of the Lord.
Readers will:

Understand the importance of obeying God's Commandments.
Discern whether issues in their lives resulted from disobeying God or diabolical attacks from the adversary.
Gain a lifetime of spiritual wisdom and knowledge.
Realize they can build a closer relationship with God.
This book will:

Specify all the Commandments of the New Testament and Old Testament that Christians must follow.
Outline the types of curses and the remedies for each.
Encourage research of the scriptures for motivation to seek God for more understanding and revelation.
Save time looking up appropriate biblical scriptures, because the ones needed are included.
About the Authors:
Elkin B. Sutherland and Kenly Charite both grew up in the Bahamas.
Book Details
Genre: Religion / Christian Theology
Authors: Elkin B. Sutherland & Kenly Charite
Format: Paperback, 214 pages
Pub date: July 2014
The Christian Commandments Identified – Volume One: The Blessings of Obedience & The Curse of Disobedience (ISBN: 978-1-62857-462-3) is now available for $14.95 and can be ordered through the publisher's website:
http://sbprabooks.com/ElkinBSutherlandandKenlyCharite or at http://www.amazon.com or http://www.barnesandnoble.com.
Wholesalers: This book is distributed by Ingram Books and other wholesale distributors. Contact your representative with the ISBN for purchase. Wholesale purchase for retailers, universities, libraries, and other organizations is also available through the publisher; please email bookorder(at)sbpra(dot)net.