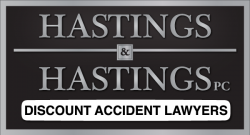 Phoenix, AZ (PRWEB) February 22, 2015
Hastings and Hastings, an experienced and reputable Arizona personal injury lawyer with more than three decades of experience announces record demand for legal representation associated with accidents involving slips and falls. There are many scenarios where slip and fall accidents occur both in the home and in the workplace. These types of accidents are known to be extremely difficult to take to trial or negotiate and that is why it is so important to work with an experienced legal firm. Hastings and Hastings is a Phoenix Arizona personal injury attorney with a team of trained legal minds that work to assess how and if a client will be able to pursue a recovery effort with regard to the property owner. The firm guarantees that prospective clients will always meet with a licensed and experienced attorney as opposed to a paralegal or salesperson.
The firm has more than 10 conveniently located law offices throughout the greater Phoenix metropolitan area with established and experienced attorneys in each location. Each attorney working with the Hastings and Hastings team has passed the State Bar of Arizona and is closely monitored by the firm to ensure the highest levels of quality control. A slip and fall type incident or premises liability situation requires dedication, focus and commitment to ensure that clients enjoy the best possible outcome. These types of accidents result in fractures, spinal cord injuries and a wide range of head trauma. Working with a professional attorney can have a substantial impact on how successful a recovery actually is for the client.
Hastings and Hastings works with clients covering a wide array of accidents and injuries that occur each and every day across the state. From motorcycle accidents to bicycle accidents and pedestrian accidents as well as SUV accidents and trucking accidents, the firm is always ready and able to assist those who have been injured due to the negligence or wrongdoing of a corporation or another individual. Even those who have been injured through no fault of their own due to the negligence of a government agency can many times find relief when choosing to work with Hastings and Hastings. The firm is respected throughout the industry for its aggressive, transparent and honest discounted fee structure.
The discounts made available by Hastings and Hastings are intended to help clients retain a larger portion of any recovery. This is an important aspect of the Hastings and Hastings difference because when clients have more financial resources they are better able to handle long-term medical bills and long-term lost wages. The firm has helped thousands of clients over the decades save millions in terms of recoveries. This recent announcement with regard to record demand for legal representation associated with accidents involving slips and falls is further proof that Hastings and Hastings is a law firm with a trusted name in Arizona.
Hastings and Hastings is a leading provider of discount personal injury legal services located in and serving the greater Phoenix Metropolitan area. This respected legal firm specializes in assisting individuals that have been the victim of serious injuries that have resulted from accidents that were not fault of their own. Hastings and Hastings is a trusted group of attorneys that deliver personalized service and guidance for injury victims throughout Phoenix and all across the state of Arizona. Hastings and Hastings is known throughout legal circles as a dedicated team of professionals and a law firm that has been representing accident victims throughout Arizona for decades. Hastings and Hastings has consistently exceeds client's expectations with regard to representing a wide array of accident related injury victims at times when it matters the most and always doing so with discount attorney's Fees.