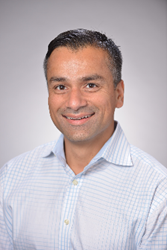 Portland, OR (PRWEB) February 10, 2015
Dr. Sunil Thanik of Progressive Periodontics is now certified in the Pinhole Surgical Technique™ (PST™) and is accepting new patients who are need of a gum surgery alternative. Patients in Portland, OR who are experiencing the signs and symptoms of receding gums can undergo PST™ and regain their smiles in just one appointment. The procedure is so quick and effective that patients usually see an immediate improvement in their appearance and experience few of the side effects seen with traditional gum recession surgery treatments.
Portland, OR patients with receding gums are often unaware of the problem until more advanced stages of the condition because it occurs so gradually. Patients may notice increasing teeth sensitivity and teeth elongation. Both symptoms occur when the gums begin to pull away from the teeth, exposing the root. While most cases of recession occur due to gum disease, poor dental hygiene and aggressive tooth brushing, many cases occur due to factors outside of a patient's control. These include genetic predisposition, hormone changes, crooked teeth and grinding and clenching of the jaw.
To combat the problem, Dr. Thanik recommends that patients undergo the PST™. When Dr. Thanik performs the procedure, he uses special tools to create a small hole in the gums where recession has occurred. Using the hole as an entry point, the doctor is able to gently move the gums until they cover the recessed area. No cutting of the gums is required, no sutures are used and no grafting occurs, so patients have a much less invasive, less painful and more enjoyable experience than when they undergo traditional gum surgery. Recovery is also expedited, and many patients are back to their normal routines the same day. Some patients report being completely healed in as little as a day or two.
Patients in Portland, OR who would like to know more about how PST™ can eliminate their receding gums are encouraged to contact Dr. Thanik's office to schedule an appointment. The innovative gum surgery alternative can change an individual's appearance and restore self-confidence in very little time.
About the Practice
Progressive Periodontics is a periodontal practice offering individualized care for patients in the Tigard, OR area. Dr. Sunil Thanik is passionate about the advanced techniques in his field, and is proud to offer minimally invasive options to his patients. Dr. Thanik has received extensive training in dentistry, earning his Doctorate of Dental Medicine from Tufts University School of Dental Medicine, and a Specialty Training Certificate in Periodontics from Case Western University School of Dental Medicine. He also received his Master of Science Degree from Case Western and completed his general practice residency at Yale University, St. Mary's Hospital. Dr. Thanik currently assists as an associate clinical instructor for the graduate periodontal program at OHSU, and attends continuing education courses himself to stay abreast of the latest developments in dentistry. To learn more about the services offered at Progressive Periodontics please visit their website at http://www.portlandperiopro.com or call (971) 238-5296.