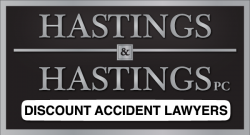 Phoenix, AZ (PRWEB) February 23, 2015
Hastings and Hastings, a discount attorney in Phoenix with 11 conveniently located offices throughout the Valley reports record demand heading into 2015 for property damage related legal representation in Phoenix. From automobile accidents to trucking accidents and bicycle accidents as well as motorcycle accidents and other type of accidents, property damage is a serious concern for those who have been involved in an accident that was no fault of their own. Hastings and Hastings has years of experience in working with a wide array of property damage related events throughout Arizona. The firm routinely handles all aspects of negotiating with insurance companies and dealing with the intricacies of a full trial. All variables of property damage including mitigation of damages and repairs as well as towing and storage fees are taken into account.
In addition to property damage, Hastings and Hastings also routinely addresses many different types of actions that result in catastrophic and serious injuries. The firm takes the lead with regard to taking the pressure off of accident victims so that they may focus on family and on recovering. Hastings and Hastings is a firm in Arizona that always puts the client's best interest first. The firm has stated on multiple occasions that it offers discount attorney's fees while never discounting legal services. This is an important consideration because historically there have been other law firms throughout the country that have offered discount fees while at times delivering inferior service. Hastings and Hastings stands by its promise of providing comprehensive and complete legal representation each and every time.
Another key aspect of the Hastings and Hastings difference is that the firm offers clients something known as the "no fee promise." In clear and concise language, the firm lets clients know that if there is no recovery that no fees associated with the work performed by attorneys will be due at any time. This is an upfront and transparent promise that is made by the firm to each and every client. With no confusion and no ambiguity, Hastings and Hastings states that clients will enjoy the no fee related promise regardless of the complexity or duration of any recovery effort.
Having served the residents of Arizona for well over 30 years, the firm has extensive experience in auto accident legal services and legal representation associated with a wide variety of accidents that result in injury and loss of life. The firm has stated on multiple occasions that reputation does matter and as such has developed a favorable reputation over the years throughout the region. This recent announcement with regard to record demand heading into 2015 for property damage related legal representation in Phoenix is more proof that Hastings and Hastings is a law firm that exceeds expectations on a daily basis.
Hastings and Hastings is a leading provider of discount personal injury legal services located in and serving the greater Phoenix Metropolitan area. This respected legal firm specializes in assisting individuals that have been the victim of serious injuries that have resulted from accidents that were not fault of their own. Hastings and Hastings is a trusted group of attorneys that deliver personalized service and guidance for injury victims throughout Phoenix and all across the state of Arizona. Hastings and Hastings is known throughout legal circles as a dedicated team of professionals and a law firm that has been representing accident victims throughout Arizona for decades. Hastings and Hastings has consistently exceeds client's expectations with regard to representing a wide array of accident related injury victims at times when it matters the most and always doing so with discount attorney's Fees.