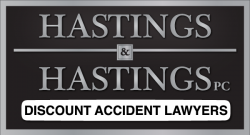 Phoenix, AZ (PRWEB) February 24, 2015
Hastings and Hastings, an Arizona personal injury law firm with 11 convenient offices located throughout the greater Phoenix metropolitan area, reports record demand heading into 2015 for legal representation associated with catastrophic injuries. Accidents happen each and every day throughout the state of Arizona and many of those accidents result in catastrophic injuries. Those who have been injured in some way through no fault of their own are typically best served by working with an experienced legal team as a way to recover losses. Hastings and Hastings has in total over 150 years of cumulative legal knowledge and experience. This simply means that the firm has the resources and the ability to navigate and understand even the most complex accident events.
Everything from properly documenting an injury to negotiating with insurance companies is routinely handled by the attorneys of Hastings and Hastings. For example, the firm pays particular attention to the ramifications associated with the statute of limitations. This is an important and vital concern when it comes to an accident event. In short, exceeding the statute of limitations can ultimately result in a failed attempt at achieving a recovery associated with an accident. Staying proactive and timely when it comes to initiating a recovery attempt can make a big difference in the final outcome. The firm has stated on multiple occasions that one of its primary focuses is to always move swiftly when it comes to initiating a recovery for a client.
Hastings and Hastings is a firm that pursues all avenues and all aspects of a recovery attempt. Aggressive and knowledgeable representation is what clients have come to expect from this reputable Phoenix Arizona team of lawyers. Hastings and Hastings has earned its reputation one client at a time and is known for providing aggressive and fair representation while still working on a discount fee basis. The firm is also known for maximizing each and every possible recovery avenue as a way to achieve the most favorable results for clients. Helping accident victims move on from a serious accident is what the firm has been doing for over 30 years.
With the growing incidence of catastrophic injuries occurring throughout the state each year, it is clear to see why having focused legal representation in Arizona is so essential. Serious injuries, catastrophic injuries and loss of life events are all typical of modern vehicular accidents. Having the dedication and commitment of a reputable and experienced firm can make all the difference when it comes to clients achieving a beneficial recovery. This recent announcement with regard to record demand heading into 2015 for legal representation associated with catastrophic injuries is further evidence that Hastings and Hastings is a law firm that stands behind its stated promises.
Hastings and Hastings is a leading provider of discount personal injury legal services located in and serving the greater Phoenix Metropolitan area. This respected legal firm specializes in assisting individuals that have been the victim of serious injuries that have resulted from accidents that were not fault of their own. Hastings and Hastings is a trusted group of attorneys that deliver personalized service and guidance for injury victims throughout Phoenix and all across the state of Arizona. Hastings and Hastings is known throughout legal circles as a dedicated team of professionals and a law firm that has been representing accident victims throughout Arizona for decades. Hastings and Hastings has consistently exceeds client's expectations with regard to representing a wide array of accident related injury victims at times when it matters the most and always doing so with discount attorney's fees.