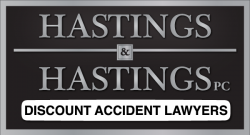 Phoenix, AZ (PRWEB) February 25, 2015
Hastings and Hastings, a trusted and reliable source for Phoenix Arizona personal injury attorney services reports record traffic accident legal representation requests for the year ending December 31, 2014. As the number of traffic accidents continues to increase throughout the state and across the country, there are a growing number of individuals that require professional and experienced legal representation when it comes to personal injury related matters. Hastings and Hastings has an honored and established name in the legal field and has helped thousands of clients over the years recover losses associated with injuries that were due to accidents resulting from someone else's negligence. The firm is a genuine discount accident lawyer firm with nearly a dozen offices in the greater Phoenix metropolitan area.
The firm routinely handles a host of unique personal injury related events throughout Phoenix across the state of Arizona. This includes everything from wrongful death related accidents to motorcycle collisions and trucking and 18-wheeler collisions. In addition Hastings and Hastings routinely addresses accident events that cause catastrophic injuries and serious injuries as well as car accidents, SUV collisions and truck accidents. Other situations commonly addressed by the firm include pedestrian accidents that result in injuries along with bicycle accidents that also result in injuries and dog bite related injuries as well as slip and fall accidents. Other areas of legal focus include property damage related situations and a number of other personal injury type events that occur each and every day across the state.
Traffic accidents involving cars and motorcycles are perhaps the most common types of accidents seen today. That said Hastings and Hastings has handled many motorcycle accidents that have resulted in injuries over the years. Motorcycle accidents are particularly complex because motorcycles do not offer the same structural protection that is seen in larger closed in type vehicles. Because motorcycle drivers are more exposed there is a greater likelihood of more serious injuries and the potential for loss of life. Helmets do save lives and reduce injuries but they cannot alleviate many of the serious injuries associated with a motorcycle collision type accident, especially at high speed.
From road rash to head injuries and spinal cord injuries, there are many aspects of motorcycle collisions that must be taken into account. Hastings and Hastings is a firm that is known for focused and detailed legal representation for those who have been injured because of the negligence or wrongdoing of another individual or even a corporation. This recent announcement with regard to record traffic accident legal representation requests for the year ending December 31, 2014 is one additional clear indicator that Hastings and Hastings is a law firm in Phoenix Arizona that has a favorable and respected reputation throughout the community and among peers as well as with former and existing clients.
Hastings and Hastings is a leading provider of discount personal injury legal services located in and serving the greater Phoenix Metropolitan area. This respected legal firm specializes in assisting individuals that have been the victim of serious injuries that have resulted from accidents that were not fault of their own. Hastings and Hastings is a trusted group of attorneys that deliver personalized service and guidance for injury victims throughout Phoenix and all across the state of Arizona. Hastings and Hastings is known throughout legal circles as a dedicated team of professionals and a law firm that has been representing accident victims throughout Arizona for decades. Hastings and Hastings has consistently exceeds client's expectations with regard to representing a wide array of accident related injury victims at times when it matters the most and always doing so with discount attorney's Fees.