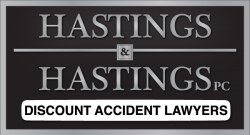 Phoenix, AZ (PRWEB) February 27, 2015
Hastings and Hastings, an experienced, dedicated and focused personal injury law firm in Phoenix Arizona announces sport-utility vehicle collision legal representation requests at record levels going into 2015. The highways, streets and roads of Arizona experience a large number of vehicular accidents each and every year without fail. However, there has been a steady stream of sport-utility vehicle or SUV type vehicle collisions in recent years. These types of accidents can be particularly dangerous because SUVs are larger and have more mass than smaller passenger cars and motorcycles. As such, when a collision occurs the damage and injuries can be substantial. Those who have been injured through no fault of their own in a SUV-collision often require experienced legal representation.
Hastings and Hastings is a law firm in Phoenix Arizona that is focused on personal injury related accidents and that has been serving clients in the region for well over 30 years. It is this established and trusted reputation that has earned the firm favorable reviews and referral business year after year. Hiring an experienced law firm is perhaps one of the most important decisions an injury victim can possibly make when having been involved in an SUV type accident. Hastings and Hastings helps clients navigate through the complex waters associated with dealing with insurance companies and the legal system. Insurance company negotiations can be particularly challenging and that is why it is important to choose a personal injury law firm with great care.
For example, it is a known strategy of insurance companies to use the tactic of trying to minimize the actual value of a particular motor vehicle or SUV type accident. These insurance companies will also, as a matter of standard procedure, try to minimize the seriousness of injuries. This must be taken into account because injury victims often require substantial financial resources to cover ongoing medical expenses, medical care and lost wages. By working with a dedicated and focused personal injury law firm, accident victims are more likely to achieve a greater level of success when it comes to a much needed recovery that will cover all aspects of an accident.
From personal injury recoveries to property damage recoveries, Hastings and Hastings works for the client to achieve the best possible recovery outcome. The firm recommends that accident victims always opt to speak with an attorney prior to dealing with any insurance companies that are involved in an accident event. With a total cumulative combined level of experience that exceeds more than 150 years, Hastings and Hastings handles virtually all types of accident injuries so that clients can focus on recovering from being hurt and taking care of their families. This recent announcement with regard to sport utility vehicle collision legal representation requests at record levels going into 2015 is further proof that Hastings and Hastings has earned a favorable reputation among prior and existing clients.
Hastings and Hastings is a leading provider of discount personal injury legal services located in and serving the greater Phoenix Metropolitan area. This respected legal firm specializes in assisting individuals that have been the victim of serious injuries that have resulted from accidents that were not fault of their own. Hastings and Hastings is a trusted group of attorneys that deliver personalized service and guidance for injury victims throughout Phoenix and all across the state of Arizona. Hastings and Hastings is known throughout legal circles as a dedicated team of professionals and a law firm that has been representing accident victims throughout Arizona for decades. Hastings and Hastings has consistently exceeds client's expectations with regard to representing a wide array of accident related injury victims at times when it matters the most and always doing so with discount attorney's Fees.