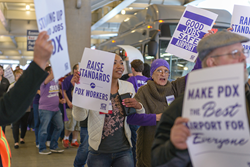 "I absolutely love this airport and have immense pride in the work that I do. Good, safe airports start with us, and PDX decision makers should do the right thing to keep our airport number one." - Nick Ashton, bag runner at PDX
Portland, Ore. (PRWEB) February 11, 2015
SEIU Local 49 today released a white paper with findings from a non-scientific survey of 148 workers employed by subcontractors at Portland International Airport (PDX). In the white paper, entitled "Minimum Standards: The Port of Portland's Opportunity to Fix Behind-the-Scenes Problems at PDX," subcontracted PDX workers cite high turnover, understaffing, and equipment problems as important issues that impact workers and the public alike.
Airport workers have called on the Port to implement a set of meaningful minimum standards that will address worker concerns. The Port of Portland Commission is scheduled to review a draft workplace initiatives document at their regular commission meeting today, February 11, at 9:30 AM. Airport workers will be in attendance to share their views on the importance of adopting a set of minimum standards at the airport.
"I absolutely love this airport and have immense pride in the work that I do," said Nick Ashton, a bag runner at PDX. "Good, safe airports start with us, and PDX decision makers should do the right thing to keep our airport number one."
"The Port keeps telling us that they have to listen to everyone and have told us to go talk to our managers about our concerns. We've been trying to do exactly this for years. It is time for the Port to step up and work with us," said Matthew Johnson, a fueler at PDX.
Key findings from the survey of subcontracted workers at Portland International Airport include:

High turnover, with an average annual turnover rate of 60% among key Airline Service Providers (ASPs), creating disruptions in service and security.
Understaffing and equipment problems, with two thirds of survey respondents saying they work with equipment that is insufficient or in poor condition.
Need for improved safety, training and equipment standards
Persistent poverty, with many subcontracted workers relying on public assistance programs to meet their essential needs, such as food, shelter and health care, due to low wages.
###
SEIU Local 49 represents more than 10,000 building service and health care workers, including workers at Portland International Airport. The Service Employees International Union is the largest property service union in the United States.