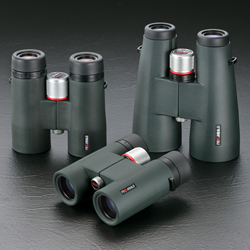 Torrance, California (PRWEB) February 11, 2015
With the BD42-XD's success, Kowa is excited to add five all new binoculars to complete the BD-XD Series in addition to a new lightweight and compact model to the SV Series binoculars. The BD32-XD and BD56-XD, a 32mm and 56mm binocular respectively, are now available in 8x, and 10x magnifications with a 12x option available in the BD56-XD series.
"We are excited to expand the BD-XD binocular series. Our customers have been waiting for both a smaller and larger binocular with Kowa's XD extra-low dispersion glass," says Miles Takahashi, Sales Manager at Kowa American Corporation.
The BD32-XD, BD42-XD, and BD56-XD Series binoculars feature two PROMINAR XD extra-low dispersion lenses that hold high resolution and high contrast properties allowing them to produce only the brightest and clearest images. Customers searching for the perfect mid-range binoculars should look no further than the BD-XD Series. The entire BD-XD Series binoculars are available now through authorized dealers with prices starting as low as $415.00 USD to $720.00 USD.
Kowa American Corp. has also just released a new 25mm budget binocular. The SV25 Series are available in 8x and 10x magnifications weighing in at just 9.1oz, making it the lightest Kowa binocular available. The SV25-8 and SV25-10 feature Kowa's KR and Phase Coatings, also included in the Genesis and BD-XD Series, to protect the lenses and ensure sharp images and contrast. The SV25 Series binoculars are available through authorized Kowa retailers at prices starting as low as $99.00. For more information, please visit http://www.kowa-usa.com/Sporting-Optics/.
About Kowa American Corporation: Kowa American Corp. is a U.S. subsidiary of a global multi-faceted company offering a broad range of products with technologically advanced solutions in areas such as pharmaceuticals, optical and electro-optical goods, textiles, machinery, and chemicals. Kowa American Corporations subdivision in Torrance, California specializes in providing a full-range of optical products, including ophthalmic diagnostic equipment, sporting optics goods, and machine vision and CCTV lenses.
Kowa attributes its record of success to its ability to introduce products with key features, innovation, and functions that meet specific user needs and help to make workflow more productive. Kowa is constantly expanding its focus into new fields where it can make effective use of its core technologies. In detail, Kowa is allocating more resources to niche markets such as eye care, LED lighting, and specialty lenses where greater accuracy and reliability are required. On the frontier of technology, Kowa is living up to the expectations and trust its customers have in Kowa as a global brand.