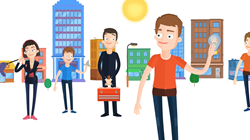 Being able to show your audience what you're talking about helps keep them engaged
Chicago, IL. (PRWEB) February 11, 2015
Key to any modern video production project, whether it's intended for a national branding campaign or independent website, whether it's created for broadcast or for boardroom, kick-off or convention, is something called motion graphics or animation. Recognizing the importance of vector-style animated graphics, Chicago-based media production company Absolute Vision Media Productions is thrilled to announce a new incentive for those seeking motion graphics services. This incentive takes the form of a limited time discount extended to new clients large and small who elect to commission motion graphic style animation work before the end of the second quarter of 2015.
Motion graphics, in their current form, are a relatively new aspect of today's video market. Indeed, a wide variety of different entities commission videos for a wide variety of disparate purposes: from industrial training to sports marketing. But one of the uniting characteristics of all modern video is motion graphic elements. Essentially, motion graphics are computer generated images—not the kind that are generally used as special effects in Hollywood blockbusters (though, there are those applications), but rather, as stylized used of brand assets, text, and newly created graphic images. Anybody who watches many current television commercials is essentially watching motion graphics at work.
View an example motion graphic style video here - Large Branding Campaign for the city of Chicago Transit System.
Therefore, motion graphics can articulate and illustrate ideas quite well. "We use motion graphics for our own purposes, as well," said Mark Smith, owner and founder of Absolute Vision Media Productions. "In fact, recently our sister company Chicago Projection Mapping produced a short video about the basics of 3D projection mapping,( View Video Here ) and we used motion graphics to great effect in that. Being able to show your audience what you're talking about helps keep them engaged and, I think, helps them retain information." Smith also went on to mention that, in today's computer-heavy media landscape, motion graphics also tend to be a signifier of professional, polished work.
Therefore, motion graphics and vector-image based graphics are both used in a wide variety of video media in order to augment the production values. In such a context, motion graphics are appropriate for training videos, corporate workshop videos, interview spots, and so on, all the way up to broadcast-ready marketing spots. But they do take some investment. In order to achieve peak effectiveness, motion graphics must be flawless. This means that cutting corners can signify, instead of professionalism, a kind of amateurishness. Customers and clients alike can pick up on these signals. This means that motion graphics style video spots are definitely worth the cost.
But this is also why Absolute Vision Media Productions is offering a limited time discount—so you can engage with your audience using well-established techniques. Because motion graphics are used by everyone from McDonald's to small, independent productions, audiences have come to expect them. With decades in the video business, Absolute Vision Media Productions is in an excellent position to help deliver the goods. If you are interested in the creation of custom motion graphics, contact Absolute Vision Media Productions via e. mail at Info(at)AbsoluteVisionMedia(dot)com.
View the Sample Video Gallery Here-
About Absolute Vision Media Productions: Absolute Vision Media Productions is a Chicago-based media and production company, and part of the Absolute Vision Media Inc. creative group. Whether for agency-style media, professional video production, local production crew, or general marketing and advertising, Absolute offers national-level experience with local connections and know-how for corporate, educational, commercial, and creative purposes. To learn more, visit http://www.AbsoluteVisionProductions.com.
Contact Us Now At 630.422.7311