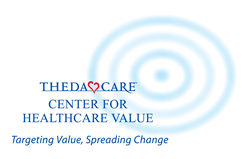 Appleton, Wis. (PRWEB) February 11, 2015
Veara played a crucial role in building CBIN over the last couple of years and also provided Clinical Business Intelligence program leadership to ThedaCare, a seven-hospital healthcare system in northeastern Wisconsin.
"This opportunity is very exciting," said Veara. "I'm honored to keep CBIN's important role moving forward and to help our members get the resources they need on their journey to lean."
Before his time at ThedaCare, Veara served as a national business intelligence and data warehouse consultant. He also was the director of application development for a Fortune 500 retail chain. Veara has presented on business intelligence at the National Retail Federation and the Health Information Management Systems Society conferences.
Center President and COO Helen Zak is confident Veara will do a great job in his new role.
"Brian has an exceptional amount of experience and drive, and we look forward to his leadership in helping CBIN members learn, share and connect to achieve extraordinary results," she said. "In his new role, he will conduct innovative experiments and share our learning with others across the globe."
Veara replaces Julie Bartels, who led the Center's transparency initiatives for the past several years and now leads the State Health Innovation Plan team as part of Wisconsin's recent State Innovation Models (SIM) initiative.
ThedaCare Center for Healthcare Value
The ThedaCare Center for Healthcare Value is an education institute that believes we must have three essential elements for sustainable change in healthcare: Delivery of care designed around the patient; payment and incentives based upon value and outcomes; and transparency of performance (quality and cost) throughout the healthcare system. Founded in 2008 and headquartered in Appleton, Wisconsin, we are a small not for profit with a big mission to help change the healthcare industry. Learn more at: createvalue.org.