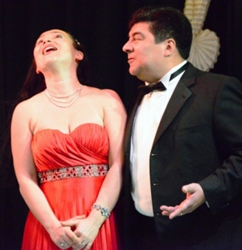 Fall in Love with Opera and Broadway Love Songs
Sausalito, Ca (PRWEB) February 10, 2015
Golden Gate Opera announces Valentines Opera Night Benefit on Friday, February 13, 2015 at the Sausalito Seahorse Supper Club.
Marin County's Golden Gate Opera (GGO) is pleased to announce it will be holding a Valentines Celebration of Romantic Opera and Broadway love songs, "Fall in Love with Opera" on Friday, February 13, 2015 6:30 p.m. at the Sausalito Seahorse Supper Club.
The Valentine's Day themed event is a benefit to raise funds to bring Opera to the youth of Marin County.
The GGO event will feature professional artists including tenor Raymond Chavez, sopranos Olga Chernisheva and Jenny Matteucci, and pianist Daniel Lockert. Songs, arias and duets in 2 acts accompanied by piano, with selections introduced by the emcee will include opera favorites La Bohème, La Traviata, Tosca "Il bel Sogno di Doretta", famous Italian songs like "Caro Mio Ben" and "O Sole Mio", and romantic selections from West Side Story.
The evening festivities will begin at 6:30 p.m. where guests will be welcomed with a complimentary glass of delicious Prosecco; and at 7:00 p.m. a decadent four course meal will be served that will include appetizers, pasta, attendee's choice of fish, Cornish game hen, or vegetarian main course, and dessert. At 7:30 p.m. the evening performances will begin. The Seahorse Supper Club is located at 305 Harbor Way, Sausalito California.
Cost to attend the benefit is $75 per person, including tax and tip. There will be a no host bar. There is limited seating and reservations need to be made by February 12, 2015, and can be made online at http://www.goldengateopera.org. For tickets, click here.
Net proceeds from this evening's benefit event will be used to support the Golden Gate Opera's 2015 – 2016 School Program, including bringing the anti bullying opera "The Boy Who Grew Too Fast" by Gian Carlo Menotti, to Marin County Schools in the Fall of 2015. Part of each reservation is tax-deductible according to the extent of the law.
To learn more about this event or the Golden Gate Opera, contact GGO Executive Director Roberta Wain-Becker via email at rwbecker(at)goldengateopera(dot)org or at (415) 339-9546 or (415) 370-1722.
Golden Gate Opera is a 501(c)(3) Non Profit Organization and was established in 1996 with a mission to enrich the community's experience by providing access to a myriad of fine arts found in live, professional opera, and to inspire people of all ages, cultures and economic backgrounds to appreciate the arts and learning through high-quality performances and educational programs. To date, more than 100,000 children have received arts enrichment through Golden Gate Opera's In-School Opera Assemblies or attending full performances in the theater with class groups.