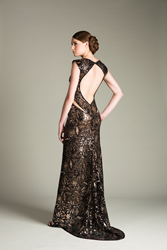 The collection is the result of Shear's finely-honed talent for design and her passion for creating exceptionally beautiful garments coming together to form a dazzling array of red carpet-ready gowns.
Los Angeles, CA (PRWEB) February 12, 2015
Rhonda Shear is proud to announce her new collection of exquisite, "one-of-a-kind" cocktail and evening dresses that are designed to mark the arrival of a bold new area in event dressing. The label is the result of Shear's finely-honed talented for design and passion for creating exceptionally beautiful garments coming together to form a dazzling array of red carpet-ready gowns.
Each piece in the eponymous line has been meticulously constructed form the finest hand picked fabrics and materials. These include but are not limited to silk, chiffon, lace and more. Design elements give each piece its own unique look and include Swarovski crystal accents, graceful trains, deco inspired prints and others. This new collection takes Rhonda Shear to a new level in the "Rhonda Shear" brands continued evolution.
Rhonda Shear is a comedienne and television personality turned fashion designer who aspires to create intimates and other types of apparel for women of all shapes, sizes and ages. She is known for her internationally bestselling bra line "Ahh by Rhonda Shear." Her collections include a wide range of different pieces like sleep wear, shape wear and apparel and intimates in sizes ranging from XS to 3X. All of her pieces are personally designed and are available in a huge array of seasonal color and style options.
Known for the quality and success of items and from regular appearances on shopping channels worldwide, Rhonda Shear has gained the trust of millions of women seeking comfort and control.
Every item in the collection is created using Shear's unerring eye for style and comes about as a result of her decades of experience in custom dress making, particularly with regards to intimate apparel. Each piece in the new product line includes a new built-in "smoothing body suit," which is designed to flatter a person's shape and style in the most elegant and natural way possible.
Each of these new evening dresses is designed to reflect a formidable sense of confidence and self-worth. The fit of each piece has been specifically designed to accentuate the graceful lines of a woman's figure, regardless of the nature of the event that they're attending or their profession.
Shear indicated that she created this new product line specifically with strong women in mind, allowing professional individuals to get exactly what they want out of life and to make sure that they're not afraid to put a little bit of their own style and personality on display via the types of fashions that they wear.
To find out more about the release of Rhonda Shear's new line of evening wear, please visit our site at http://www.rhondashearcouture.com
Press inquiries can be sent to Omar(at)frame-pr(dot)net 310. 689. 7595
Sales inquiries can be sent to sales(at)shearenterprises(dot)com
Rhonda Shear will debut her premiere couture collection from February 18th to the 20th at the Luxe Hotel in Beverly Hills, hosted by NPR Oscar Suites.
ABOUT SHEAR ENTERPRISES, LLC
Shear Enterprises, LLC is located in St. Petersburg, FL and was founded in 2003 by Rhonda Shear and Van Fagan. Shear Enterprises, LLC manufactures and sells several brands including Ahh by Rhonda Shear, SLACKER, Crystal Hefner, and more. These brands are sold both in the US and internationally to shopping channels, online retailers, and retail stores. For more information about Shear Enterprises, LLC please visit http://www.rhondashear.com