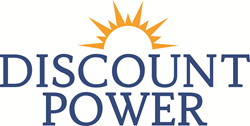 "We are honored to receive an A+ rating from the BBB..." Neville Ravji CEO Discount Power
Houston, TX (PRWEB) February 11, 2015
The Better Business Bureau acts as an independent third-party between consumers and businesses across the United States. Consumers are able to provide reviews about various aspects of different businesses they have come in contact with, including advertising and sales, billing and collection, delivery, guarantee and warranty, as well as products and services provided. The BBB handles consumer complaints and helps resolve disputes between both parties.
Discount Power has been in business since 2008 and it has been awarded the A+ rating in the first year of it becoming eligible to get this rating. This is affirmation of Discount Power's dedication to its customers in the form of fair, simple and transparent products; and its commitment to treating them fairly and providing excellent customer service. With an A+ accreditation, Discount Power has managed to once again set itself apart from other retail electricity providers in Texas and prove it is a company focused on providing a desirable customer experience to Texans.
Chief Executive Officer of Discount Power, Neville Ravji, said, "We are honored to receive an A+ rating from the BBB. We make it well-known to consumers that we are here to provide them with great rates and an excellent customer experience. We strive to distance ourselves in this industry from many of the other providers that choose to take advantage of consumers with high rates, and appalling customer care. I am very proud of the entire team here at Discount Power – this rating is a testament to the team's focus on the customers."
"At Discount Power, we build trust with consumers by creating plans that are actually beneficial to them," said Mohsin Hassan, Chief Operating Officer of Discount Power. "Take for example our new 'Value Plus' line of plans. Value Plus plans provide consumers with a no minimum usage fee product, which is extremely important to those that may use lower amounts of electricity year-round or in some months, yet get penalized for being energy efficient with a fee. How do we know this? Because they have reached out to us and we have listened. That is Discount Power. It is simple with us – we aim to please."
To learn more about Discount Power's BBB accreditation, visit here.
For more information about Discount Power and its plans, including the Value Plus line, visit us online or call 877-909-7693.
About Discount Power
Discount Power is a retail electric provider based in Houston, Texas. Discount Power is comprised of industry experts with more than 50 years of experience in the energy industry. The team at Discount Power has been involved in all of the business elements of the energy market since the beginning of retail deregulation in Texas and has collectively served hundreds of thousands of residential and commercial customers. Learn more about Discount Power by visiting us online.
###