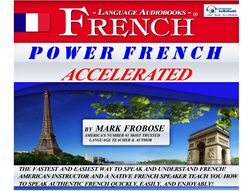 These Apps allow anyone to learn languages everywhere
Champaign, IL (PRWEB) February 12, 2015
Mark Frobose, bestselling foreign language author of Power Spanish Accelerated, announced today that his company LanguageAudiobooks.com has just released two new
no-cost language learning Apps for both iOS and Android smartphones.
"We thought we would make language learning accessible by offering 2 new portable & no-cost language learning Apps that allow anyone to learn any language quickly from any location," explains Frobose, who created Power French Accelerated.
The Apps may be downloaded by using the following links:
For iOS:
https://itunes.apple.com/us/app/language-audiobooks-learn/id952960613?ls=1&mt=8
For Android:
https://play.google.com/store/apps/details?id=languageaudiobooks.apps.android
Learn Languages Everywhere® is the motto of LanguageAudiobooks.com. The Language Audiobooks® method is an extremely effective and versatile audio language learning system that can be used anywhere for any duration of time to teach people to speak any language while in the car, at home or on a smartphone!
Free sample lessons of Language Audiobooks' popular Power Spanish, Power French, Power Italian, Bite-Sized Mandarin, Conversational Latin-American Spanish, Clean French Slang and other innovative language programs are available now at LanguageAudiobooks.com and at Audible.com.