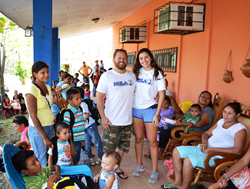 Hula is passionate and knowledgeable about our business and our charitable endeavors reflect the same values stated CFO, Scott Hobin
Sunnyvale, CA (PRWEB) February 12, 2015
As part of Hula Networks' charitable mission, Hula hopes to alleviate the burdens of Nicaraguan children & elderly by providing much needed supplies and hosting joyful Piñata celebrations. The Hula charity in Nicaragua is particularly meaningful to Hula due to principle family members living in the country. Hula Networks principle CFO, Scott Hobin along with direct staff of Hula participates directly and in person at each event.
On Saturday morning, January 3rd, Hula headed west from Managua to the small beach town of El Transito. The event first started with the traditional Piñata. Since they had so many children, each child is given only a few tries to bust the Piñata open. After the excitement of collecting candy was done, we passed out a warm meal for each child and parent. Everyone appreciated a simple meal and their bag of goodies.
On Sunday morning, January 4th, Hula headed south in their stocked cars on the Pan-American Highway 1 towards Lake Granada. They were greeted by a group of eager, yet polite and patient children outside the lake house. They quickly unload the cars, started cooking hot dogs, and got the Piñata tied up. Within 30 minutes there are 150 children outside dressed in their best attire and excited for some much anticipated food and fun.
On Monday morning (last day), January 5th Hula visited the elderly at Hogar de Ancianos, a shelter that operates as a non-profit to give support to the elderly of Granada. It is a proper and decent shelter headed by Sister Mary Adilia Vazquez and a group of Catholic nuns. There are approximately 70 residents in their care are at any given time.
Hula finished it's visits and piled back in their cars headed north towards Managua. Their Piñata mission was done and everyone was elated by their results from work and donation support. They raised a record breaking $4581.
Hula Networks Inc. empowers customers to increase productivity / profits, efficiency, and cost savings through the best people, practices, and knowledge in the technology industry. We accomplish this by providing access to world-class IT products and services, top level manufacturer certifications, flexible lease financing, software and strong business practices. Through this comprehensive offering, Hula Networks delivers the choices, tools, and value for organizations to optimize their IT infrastructure and supply chain processes.