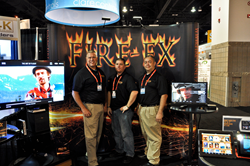 "As soldiers, we know first-hand what sacrifices these service members and their families make to serve this country; they deserve all the care, support, and benefits we can deliver to them."
Houston, TX (PRWEB) February 11, 2015
FIRE-FX, LLC, (http://www.fire-fx.tv) a veteran owned and operated business, is thrilled to be able to support the PTSD Foundation of America in its continued mission to serve our military, veterans and their families. Recently FIRE-FX visited Camp Hope in Houston, The PTSD Foundation's interim housing facility for veterans with PTSD and their families, to deliver the first media system in support of the ongoing Veteran Reintegration Program. Each common living area in Camp Hope's housing units and the children's activity room will eventually be outfitted with the award winning FIRE-FX media systems.
Larry Allhands, an active Chief Warrant Officer in the Texas Army National Guard and CEO and founder of FIRE-FX said, "We are honored to be able to provide this support for the morale, welfare, and recreation of our brothers and sisters in arms and wish the PTSD Foundation of America continued success in its vital mission. We look forward to continuing our ongoing relationship."
Dave Putman, also an active Chief Warrant Officer in the Texas Army National Guard who just rotated back from a tour in Afghanistan, and FIRE-FX's Vice President and CTO said, "As soldiers, we know first-hand what sacrifices these service members and their families make to serve this country; they deserve all the care, support, and benefits we can deliver to them."
About FIRE-FX, LLC
FIRE-FX, LLC is a professional grade, high-performance media system developer. FIRE-FX media systems were named the 2014 Media Management Product of the Year by CEA and 2015 Media Management Product of the Year by the CEA (Consumer Electronics Agency), and Electronic House Magazine's 2015 Media Server Product of the Year. FIRE-FX's award winning platform consistently delivers superior performance at a reasonable price point. FIRE-FX combines proven software with state of the art hardware components and the power of cloud computing to bring the true cinema experience of a multiplex to your home theater or living room. FIRE-FX has been a proud member of the Custom Electronics Design & Installation Association (CEDIA) since 2012. Let FIRE-FX help make your projects "POP" with our easy to use, award winning product line. FIRE-FX is privately held, with offices in Round Rock, TX and Linden, MI.
About Camp Hope
Camp Hope (http://ptsdusa.org/camp-hope/) provides interim housing for our wounded warriors, veterans, and family members suffering from combat related PTSD in a caring and positive environment. Camp Hope assists veterans with a myriad of issues to include job placement, transportation and peer support groups integration as they pursue the rewarding and fulfilling lives they so richly deserve. Camp Hope continues to expand its physical capacity and services offered. Veterans and their families from several states across America have lived at Camp Hope expense free while rebuilding their lives. The Greystar Corporation along with some 100+ other companies have invested countless hours and thousands of dollars as well as donated materials to bring hope to our veteran community.
About PTSD and Our Military and Veteran Community
Estimated 25%-33% of adult homelessness is made up of US military veterans
Recent research indicates 50% of returning troops are experiencing symptoms of PTSD
The VA reports 22 veterans commit suicide every day (based on 21 states reporting, not including the two states with the largest veteran population, California and Texas)
Since 2008, the military has lost more troops to suicide than in combat