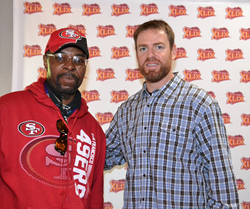 (PRWEB) February 12, 2015
Xavier Carthen, 10 year resident of Philadelphia, PA, won a first prize in the GMC-Never Say Never Sweepstakes. The prize included an all expense paid trip for him and his friend Chirita Petersen, who were flown to Glendale, Arizona for three nights and four days to enjoy Super Bowl XLIX. In all the excitement of his trip, Carthen hadn't realized this prize would also make him the newest member of SweepstakesToday.com's prestigious 10K club.
The contest, run by GMC, was designed to be the ultimate fan experience and that was certainly Carthen's experience he said in a recent interview. Notified by a phone call, he said "That's a day I'll never forget!"
The winners were chosen in a random drawing and Carthen won after entering the contest through SweepstakesToday, where he's been a member since 2014 when he began taking sweeping more seriously because, as he tells it, "I won 4 tickets to the Yankee's game in the Turkey Hill Sweepstakes…and began my sweepstakes career."
No stranger to sweeping, Carthen actually began the hobby in 1980 with his mom "…back when you had to mail the entries in." His first prize was a 10-speed bike. An accounting professional, he's been on a long term disability leave which allows him time for sweeping.
Asked what he enjoys most about the SweepstakesToday.com site, he said "…its the best one of them all… I created my lucky list of sweeps. (Since) I play every day, all (my entries are) in one place"
Housed at the beautiful Pointe Hilton Resort in nearby Phoenix, AZ, Carthen and his guest enjoyed several Super Bowl parties and got to meet and be photographed with Carson Palmer, Arizona, Cardinals Quarterback, at an official pre-game party. A real surprise came when he was offered a substantial amount for his two Super Bowl tickets – the sponsor bought back his tickets for $9,000 which was considerably over the face value of the tickets.
Sweepstakes Today LLC was launched online in March of 2004. The popular online sweepstakes website, SweepstakesToday.com, is based in Tulsa, Oklahoma and the custom Microsoft ASP/ASPX programming development is done in Salt Lake City, Utah. The website has now published over 45,000 sweepstakes, contest and giveaways.