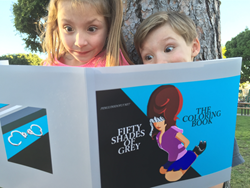 "Fifty Shades of Grey the Coloring Book"
Los Angeles , CA (PRWEB) February 11, 2015
Penguinsdofly.net releases "Fifty Shades of Grey - The Coloring Book" . Consumers with a devilish sense of humor will enjoy the retelling of a girl getting tied up in money and lust. From the mind of Brian Trifilio, comes the first in a series of illustrated books for those looking to add some creative entertainment to their library.
Pricing and Availability
Available NOW for $19.99 at http://www.penguinsdofly.net/ All books will be hand signed and numbered.
preorders for upcoming book releases also available.
About Penguinsdofly.net
Brian is a local artist seeking a creative outlet to share with those who are willing to take a risk when it comes to their entertainment. Allow yourself to be judged.