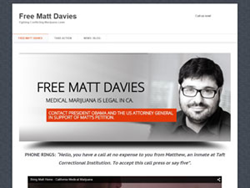 Sacramento, California (PRWEB) February 12, 2015
Free Matt Davies Website Launched
Imprisoned Medical Marijuana Provider Seeking Clemency
(Sacramento, CA, February 10, 2015) A website aimed at telling the story of Stockton businessman Matt Davies' ordeal as a California medical marijuana provider that was prosecuted under federal drug laws forbidding the sale and cultivation of marijuana and imprisoned in the Taft Correctional Institution, according to court documents, (United States v. Davies, Case # 2:12-cr-0255-GEB (E.D. Cal.), U.S. District Court for the Eastern District of California) has been newly released and can be found at http://www.FreeMattDavies.com.
According to court documents, in 2009 Matt Davies established his first of several medical marijuana dispensaries. Although called "dispensaries," these facilities were in many ways more like patient clinics, where patients suffering from pain could obtain medical marijuana per California law. Davies, an experienced businessman with an MBA, ran the dispensaries adhering to normal accepted business practices, which included strict accounting procedures, transparent bookkeeping and payment of all local, state and federal taxes.
"Matt Davies was scrupulously following California law," said Rex Halverson, Davies' attorney who has filed the Petition for Commutation of Sentence with the U.S. Attorney General's Pardon Attorney. This commutation can only be granted by President Obama.
Mr. Halverson, as well as Matt's friends and family, are actively seeking the President's review of Matt's Petition for Commutation of Sentence. In an effort to accelerate the process, a White House Petition has been created at whitehouse.gov. If this petition garners 100,000 signatures within a 30-day time frame, the matter described in the Petition will be brought to the attention of President Obama for his review. This White House Petition will go live on March 1, 2015. Please consider adding your signature to the Petition once it goes live.
To view a short video detailing The Matt Davies Story, or to learn more about the problems created when federal and state marijuana laws do not conform, please visit http://www.FreeMattDavies.com or http://www.Federal-Marijuana-Laws.com.
Contact Rex Halverson at: 916-444-0015 or rhalverson(at)federal-marijuana-laws(dot)com.