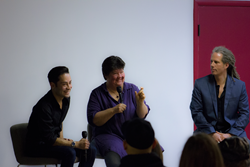 "As a school that emphasizes hands-on learning, it's vital for our students and alumni to connect and learn from successful industry professionals."
San Francisco, California (PRWEB) February 12, 2015
Back in 2005 when the San Francisco School of Digital Filmmaking opened its doors, celluloid was still king and calling oneself a "digital filmmaker" was an act of rebellion. Now in 2015, with practically every movie and TV show shot digitally, being a digital filmmaker is mainstream. "It's amazing the amount of changes we've seen in the film industry," says school President and Co-founder, Jeremiah Birnbaum. "It's easier than ever for people to make movies and get started in the business, but the amount of information an aspiring filmmaker has to know these days is much more than when I went to school 25 years ago."
On February 7th, the school celebrated it's 10th anniversary with student film screenings and an industry panel featuring Bay Area film producers Debbie Brubaker and Richard Bosner. Ms. Brubaker had two films at Sundance this year and has worked with Tim Burton and Woody Allen. Mr. Bosner was producer on the Sundance-winner, FRUITVALE STATION, and has worked with Martin Scorsese and Forest Whitaker. The celebration took place at the school's downtown campus located in the historic San Francisco Chronicle Building.
In the heart of the city, the San Francisco School of Digital Filmmaking is a diverse, international school that instructs students in the art and craft of filmmaking. With classes ranging from 1-day workshops to 18-month intensive programs, the school is a nationally accredited institution that nurtures the individual artistic creativity of it's students through an experiential, mentored, project-based curriculum. Emphasizing hands-on learning, classes are taught by an award-winning faculty using professional filmmaking tools.