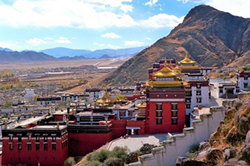 Lhasa, Tibet (PRWEB) February 17, 2015
Tibet tours give travelers the opportunity to experience magnificent landscapes blended with unique cultural experiences. Temples and monasteries filled with cultural treasures dot the high altitude scenery that awaits visitors. Tibet Ctrip Travel Service-TCTS (http://www.tibetctrip.com) has over 10 years of experience helping travelers discover Tibet and shares some the most popular itineraries for the 2015 travel season.
Top Tibet Highlights Tour, 8 Days: Like most tours by TCTS, the itinerary begins in Lhasa to allow travel groups time to acclimatize to the altitude while visiting famous sites such as Potala Palace and Jokhang Temple. Next travelers make a day trip to Lake Namtso before heading towards Everest Base Camp via Shigatse (Tibet's second largest city).
Tibet Landscape & Culture Trip, 7 Days: This Tibet tour is a great option for those who are looking for a more laid back experience. Travelers will spend an extra day in Lhasa to visit Sera Monastery, home of the debating monks, and Dreprung Monastery, once one of the worlds largest. Groups will also have the option of visiting Yangpachen Hot Spring on the way back from a day trip Lake Namtso. Finally, travelers will spend time in Shigatse visiting the beautifully decorated Pelkhor Choede Monastery and Kumbum Pagoda along the way.
Tibet Landscape Trip From Lhasa to Nepal, 8 Days: Starting off in Lhasa and ending at Tibet's border with Nepal this tour of Tibet covers a lot of ground. Travelers will spend a couple days enjoying Lhasa's famous sites before heading off for Shigatse where they will explore Tashilhunpo Monastery and the Tibetan market. After Shigatse travelers will continue on to overnight at Rongbuk Monastery, only a few kilometers from Everest Base Camp. Early morning views of Everest are simply the best!
Whether travelers are looking for a laid back site seeing tour or looking to spend long days covering lots of ground TCTS will help the group arrange the trip of a lifetime. Traveling in Tibet is a special experience that combines unparalleled scenery with the opportunity to learn about a unique culture with roots in the ancient past. Summer in Tibet is right around the corner, travelers are advised to start planning their adventure now!