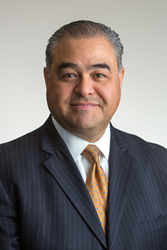 Miguel A. Ruiz has joined the firm as a partner.
Chicago, IL (PRWEB) February 13, 2015
Cogan & Power, P.C., a leading firm representing personal injury victims, is pleased to announce that veteran trial attorney Miguel A. Ruiz has joined the firm as a partner. Mr. Ruiz will focus his practice on handling catastrophic injury cases involving medical negligence, defective products, class actions, motor vehicle accidents, trucking accidents, wrongful death matters, and the Chicago public transportation system.
A 1989 graduate of the University of Illinois At Chicago, Mr. Ruiz attended the University of Wisconsin School of Law and received his Juris Doctor in 1992. He is admitted to practice in Illinois, Wisconsin (non-active status), the Northern District of Illinois, The 7th Circuit Court of Appeals and the Western District of Wisconsin.
For more than two decades, Mr. Ruiz has served as a personal injury defense attorney and distinguished himself as a tenacious advocate and an exceptional trial attorney. He has litigated matters involving wrongful death and catastrophic injuries both in Illinois and other jurisdictions. At Cogan & Power, P.C., Mr. Ruiz will continue to represent his clients with the same professionalism and dedication employed over his career, and he will use his significant experience on behalf of victims of negligence seeking appropriate compensation for their injuries.
When not working with clients, Mr. Ruiz is an active member of the legal community and the larger community. He is a member of the Hispanic National Bar Association, the Illinois Bar and the Wisconsin State Bar. Mr. Ruiz is Vice President of the Society of Trial Lawyers, where he will assume the presidency in 2016. He is a past member and chair of the City of Chicago's Board of Ethics and a past member of the Local School Council for James G. Blaine Elementary School. He is a frequent lecturer for CLE programs and has lectured on trial tactics and discovery issues.
About Cogan & Power, P.C.
Cogan & Power, P.C., is passionate about representing those who are injured because of another's negligence. The law firm's team of attorneys has used their legal knowledge and skills to recover over $250 million in verdicts and settlements for victims, and offer over 100 years of combined legal experience. For more information about Cogan & Power, P.C., please visit http://www.coganpower.com or call (312) 477-2500.