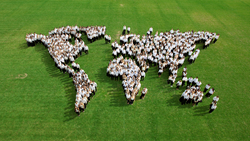 The program provides distinctive skills and competencies that give students a competitive advantage in the employment market and a head start for international career paths
Bluche, Switzerland (PRWEB) February 11, 2015
Les Roches International School of Hotel Management has launched two intakes per year (August and January) for its Bachelor of Business Administration (BBA) in Global Hospitality Management program, which began in January 2014. It's the first program of its kind, offering students an educational experience at all three Les Roches campuses. The second class of students, who began in January 2015, comprised 26 students, representing 18 nations.
The BBA in Global Hospitality Management is a seven-semester program that allows students to pursue academic courses at Les Roches campuses in Bluche, Switzerland; Shanghai, China; and Marbella, Spain; providing a total immersion into the cultural and social life of each destination. Courses focus on the service culture and cuisine of each country, relevant language skills, as well as the economic and socio-political dynamics of the hospitality and tourism industries. The curriculum and immersion experience provide students with a global understanding of what it means to have an international career in the hospitality industry. Students will switch to another campus each semester and complete two internships in up to two different countries, which will provide them with the opportunity to study in up to five locations.
"International Hospitality companies—striving for extensive growth, especially in Asia and Latin America—are searching for professionals with multicultural working experience and a well-rounded set of global skills and capabilities," said Sonia Tatar, CEO of Les Roches.
The BBA program is aligned with Les Roches commitment to preparing students for a multicultural and diverse career in hospitality management. Students will spend one semester in China and one semester in Spain (or three months in China for summer intake students), two of the most dynamic economies in the tourism and travel industry. According to the United Nations World Tourism Organization (UNWTO), by 2020 China will be the world's No. 1 tourist destination. The World Travel and Tourism Council predicts that China alone will employ 72 million people in hospitality and tourism, making it the country with the highest number of jobs in the field. In Central and Latin American countries and in Spain, the industry is growing as new luxury hotels are being built and all need graduates whose talents match their level of excellence.
"The program provides distinctive skills and competencies that give students a competitive advantage in the employment market and a head start for international career paths," said Tatar. "It prepares students to be the innovative and international industry leader of tomorrow."
For more information about the new BBA in Global Hospitality Management, please visit http://www.lesroches.edu or http://www.lesroches.es
About Les Roches International School of Hotel Management
Founded in 1954, Les Roches International School of Hotel Management is a private institution based on the Swiss model of education. Les Roches offers undergraduate, graduate and post graduate programs in the fields of hospitality, tourism, event and entertainment management. With campuses in Switzerland and Spain (Les Roches International Hotel Management School, Marbella), and affiliated campuses in China and Jordan (Les Roches Jin Jiang International Hotel Management College (LRJJ), Shanghai, China; and The Royal Academy of Culinary Arts (RACA), Amman, Jordan), Les Roches offers students the opportunity to transfer between its locations to gain an international educational experience. Les Roches is accredited at the university level by the New England Association of Schools and Colleges, Inc. (NEASC) and is ranked by luxury hotel hiring managers among the top three hospitality management schools in the world for an international career (TNS Global-2013 Survey). Les Roches is part of Laureate Hospitality Education, a leading hospitality management education group. For more information, please visit http://www.lesroches.edu.
PRESS CONTACTS
Alexia Robinet
Les Roches Bluche
Senior International Public Relations Manager
Phone: +41 (0)21-989 26 63
Alexia.robinet(AT)laureate.ch
Patricia Rodiles
Les Roches Marbella
Public Relations Manager
Phone: +34 952 764 437
Prodiles(AT)lesroches.es