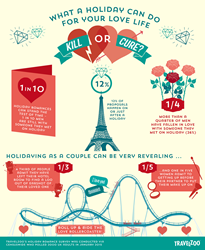 London, UK (PRWEB UK) 12 February 2015
With almost 23 million UK adults admitting they have found love on holiday, it appears that a break on foreign shores is good for increasing our chances of finding a partner. Leading global travel deals company Travelzoo commissioned research into people's experiences in meeting a partner abroad, and also the effect that taking a first holiday together can have on an existing relationship.
The research found that the majority of people (62%) think holidaying with a new partner is the best way to find out if they are a good match. However, men and women alike have to deal with insecurities and concerns as part of the experience. While one in three women said they felt "more attractive" when on holiday, over 20% of women confessed they have got up early to put their make-up on while their partner is still sleeping. Women also have a much bigger issue using the in-room facilities: almost 30% have sneaked off to find a loo elsewhere in the hotel rather than stay in their rooms when nature calls!
Louise Hodges, Travelzoo's head of communications, said, "Holidays offer people an escape from their normal lives and the chance to be a better, more relaxed and fun version of themselves. It's no surprise men and women are more likely to be open to meeting a new partner or to rekindle the flames of a current relationship when the humdrum to-do list of daily life is out of the picture.
"We were surprised to see that women in particular still have more hang-ups than men about closeness and physical appearance on holiday. We were also amused to see that both sexes enjoy a bit of covert flirting with other people when their partner is not looking! Perhaps we Brits are not as reserved as we think."
The survey also found that holidaying couples from the UK are relatively argument-free, with just 15% of respondents saying they fall out with their partner on holiday. The most common causes of arguments were 1) spending too much money 2) drinking too much alcohol and 3) agreeing on what to see or do on the holiday. Interestingly, people in a longer-term relationship were the most likely to argue about how long their partner took to get ready to go out - 28% of people in relationships admitted this had been a cause for dispute.

This survey was conducted by independent third party, Censuswide, who polled 2000 UK adults in January 2015.
Visit Travelzoo for further information.
-ENDS-
###
About Travelzoo
Travelzoo Inc. is a global Internet media company. With more than 27 million members in North America, Europe, and Asia Pacific and 25 offices worldwide, Travelzoo® publishes deals from more than 2,000 travel, entertainment and local companies. Travelzoo Deal Experts review offers to find the best deals and confirm their true value. In Asia Pacific, Travelzoo is independently owned and operated by Travelzoo (Asia) Ltd. and Travelzoo Japan K.K. under a license agreement with Travelzoo Inc.
Certain statements contained in this press release that are not historical facts may be forward-looking statements within the meaning of Section 27A of the Securities Act of 1933 and Section 21E of the Securities and Exchange Act of 1934. These forward-looking statements may include, but are not limited to, statements about our plans, objectives, expectations, prospects and intentions, markets in which we participate and other statements contained in this press release that are not historical facts. When used in this press release, the words "expect", "predict", "project", "anticipate", "believe", "estimate", "intend", "plan", "seek" and similar expressions are generally intended to identify forward-looking statements. Because these forward-looking statements involve risks and uncertainties, there are important factors that could cause actual results to differ materially from those expressed or implied by these forward-looking statements, including changes in our plans, objectives, expectations, prospects and intentions and other factors discussed in our filings with the SEC. We cannot guarantee any future levels of activity, performance or achievements. Travelzoo undertakes no obligation to update forward-looking statements to reflect events or circumstances occurring after the date of this press release. Travelzoo and Top 20 are registered trademarks of Travelzoo. All other names are trademarks and/or registered trademarks of their respective owners.