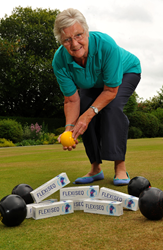 We are delighted to be working with Bowls England and helping to support their initiatives to recruit new members of all ages
London, UK (PRWEB UK) 13 February 2015
Treatments Direct Ltd, an authorised online retailer of Flexiseq, is proud to announce its official partnership with Bowls England.
Treatments Direct has teamed up with Bowls England not only to offer discounted rates for Flexiseq to all its members, but also to provide key funding to ensure the continued success of Bowls England and development of the sport in general.
Flexiseq is a drug-free gel for the lubrication of cartilage in joints to relieve pain and stiffness and improve impaired joint function associated with all stages of osteoarthritis (OA). The injection-free biolubricant for joints is a revolutionary new wellness product for the maintenance of joints that are either compromised by arthritic symptoms or those that are at higher risk of suffering wear and tear. The topically applied product delivers joint lubrication replacement therapy which coats cartilage surfaces to minimise friction and wear, making it perfect for all bowls players - not just those diagnosed with OA.
Flexiseq is entirely drug-free yet is clinically proven to achieve the same level of pain relief as a popularly prescribed oral pain killer (NSAID – Non-steroidal Anti-inflammatory Drug). With its clinically proven results and great safety profile, Flexiseq is the perfect choice for those who may be taking lots of different medicines for pre-existing conditions as there are no drug-to-drug interactions. Unlike topical creams that include NSAIDs, such as ibuprofen or diclofenac, Flexiseq can safely be used in conjunction with the maximum dose of oral NSAIDs, should these be part of your regime.
Tony Allcock MBE, Bowls England Chief Executive and 15 time World Champion said, "I recommend Flexiseq because, from personal experience and with friends and family, I know it helps reduce pain and increase mobility in the joints.
"Treatments Direct is the place to buy Flexiseq as they provide bowlers with a discount on high street prices, and every purchase of Flexiseq will support the future of the sport, with money raised going towards important initiatives including youth development and player recruitment programmes. See the Bowls England website for more details."
Martyn Smith, CEO of Treatments Direct Ltd said, "We are delighted to be working with Bowls England and helping to support their initiatives to recruit new members of all ages. The sport of bowls, just like Flexiseq, is not just for the older generation. Flexiseq has received a great deal of positive feedback from bowls players who use the product with great success and it therefore makes perfect sense for Flexiseq to be sponsoring Bowls England."
For more information visit:
http://www.treatmentsdirect.com
http://www.bowlsengland.com/sponsor/flexiseq
http://www.flexiseq.com
Or contact:
Martyn Smith
Treatments Direct
rebecca(dot)mccairns(at)treatmentsdirect(dot)com
0800 254 0117