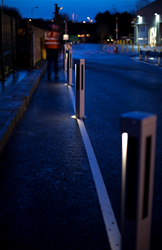 At Mars, we have installed solisposts along a new path on our factory site and are extremely happy with them – they are well designed and compared with a traditional hard wired bollard they provide substantial savings on energy and installation
(PRWEB UK) 13 February 2015
New solispost solar powered illuminated bollards have been installed at the Mars Petcare facility at Melton Mowbray in Leicestershire.
Twenty four illuminated solisposts are now in place along a road and pathway at the Petcare facility to the station providing a reassuringly well illuminated designated area.
Using solisposts has enabled Mars to minimise energy usage both at the installation stage and, once installed, with zero energy costs as the whole unit is completely powered by four solar panels integrated within the solispost unit.
Chris Dugmore, Corporate Affairs Manager of Mars Petcare said" At Mars, we have set ourselves ambitious sustainability targets and are always looking at ways to reduce our energy usage. We have installed solisposts along a new path on our factory site and are extremely happy with them – they are well designed and compared with a traditional hard wired bollard they provide substantial savings on energy and installation."
Installation costs of the solispost bollards are very much less, typically about a third less, than for electric bollards, as no electrical connections are required removing the need for trenching, cabling and a fuse box. Not only are costs saved, the quality of the existing surface is maintained with no ugly resurfacing repairs left after installation is completed.
Maintenance costs are also minimal with just an annual clean needed consisting of a light wash with water and detergent. Battery lifetime has been calculated at more and five years.
solispost illuminated bollards provide continuous low level illumination throughout the hours of darkness. Sensors automatically detect the approach of pedestrians or cyclists so that the illumination level is increased as the person walks by. In this way, a lighted pathway is visible into the distance whist the pedestrian is always within a pool of brighter, reassuring light.
The solispost solar panels are oriented so that they gather the maximum light possible during winter months ensuring solisposts works correctly irrespective of the weather, even in long northern winters.
Soilspost illuminated bollards are designed and manufactured by onthecase Ltd of Exeter; the product was launched in September 2014. Other products in the range include the solisposter which uses the same solar powered technology with solisposts incorporated into the poster case supports thus providing both wayfinding illumination as well as lighting up displayed information as the a person approaches.