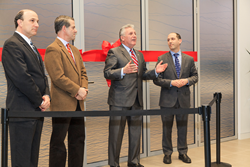 "When people walk through this door [at RMACT]... you give them a kind of hope they did not have before," said Mayor Rilling of Norwalk, CT.
Norwalk, CT (PRWEB) February 11, 2015
Mayor Harry Rilling and the partners of Reproductive Medicine Associates of Connecticut (RMACT) celebrated the fertility practice's new medically-advanced facility at a ribbon cutting ceremony at the iPark office complex (761 Main Avenue, suite 200, Norwalk, CT, 06851). The new office features one of the most advanced in vitro fertilization (IVF) labs in the country and every aspect of the new space was built to elevate the patient experience.
"When people walk through this door... you give them a kind of hope they did not have before," said Mayor Rilling of Norwalk, CT while attending tonight's ribbon cutting ceremony. "Congratulations on your new place."
Some of the features of RMACT's new office include:

One of the most advanced embryology laboratories in the country where specialized fertility procedures such as in vitro fertilization (IVF), intracytoplasmic sperm injection (ICSI), egg cryopreservation, embryo biopsy, and blastocyst culture are conducted.
More treatment rooms dedicated to RMACT's Integrated Fertility & Wellness (IFW) program which offers services that care for the whole patient such as acupuncture, nutrition counseling, support groups and counseling for individuals and couples.
More space to host classes including Fertile Yoga, nutrition seminars and polycystic ovarian syndrome (PCOS) workshops. Many are complimentary.
More space for physician and nursing education seminars, as well as resident training for the three hospital resident programs in Fairfield County.
Installation of a biometric security system, which is the latest technology in secure storage for cryopreserved embryos and oocytes.
A more welcoming, bright architectural design with a focus on nurturing patients to improve their overall experience.
"This facility reflects our approach to fertility care, which is a combination of compassion and proven results," says Dr. Mark Leondires, Medical Director at RMACT. "At every step of their fertility experience, we want our patients to have the best medical treatment and access to the latest technologies as well as to benefit from emotional support and whole-body care such as nutrition counseling and stress management. Ultimately, all of these factors contribute to success for our patients."
Dr. Leondires originally chose Norwalk for the fertility practice's primary location 12 years ago because Norwalk is the heart of Fairfield County at the cross section of I-95, Merritt Parkway and Route 7. When the partners recently decided to relocate the Norwalk office and its embryology lab, they found an ideal location in Norwalk that they could custom build. RMACT's new location, which is 1.3 miles from the previous office, will continue to be RMACT's primary location, which hosts appointments with five board-certified reproductive endocrinologists, fertility nurses, therapists, a nutritionist, acupuncturists, financial advisors and the third party reproduction team. RMACT's robust medical team gives the physicians an opportunity to consult with each other and benefit from their broad medical expertise.
About Reproductive Medicine Associates of Connecticut (RMACT)
RMACT specializes in the treatment of infertility, including assisted reproductive technologies (ART) such as intrauterine insemination (IUI), in-vitro fertilization (IVF), and Comprehensive Chromosome Screening (SelectCCS). RMACT, Fairfield County's largest fertility clinic and egg donation center, is one of 11 leading In Vitro Fertilization (IVF) centers nationwide chosen by In Vitro Sciences to participate in its Centers of Excellence program. RMACT has offices in Norwalk, Danbury, Stamford and Trumbull, and an affiliate New York fertility clinic serving Putnam and Dutchess counties. RMACT also offers infertility treatment financing and support services, such as nutrition counseling, psychological counseling, acupuncture and yoga, through RMACT's Integrated Fertility and Wellness Center.
The RMACT team includes lead physicians Drs. Mark P. Leondires, Spencer S. Richlin and Joshua M. Hurwitz, as well as fertility specialists Drs. Cynthia M. Murdock, and Shaun C. Williams. All five physicians are Board-Certified Reproductive Endocrinologists and are members of the American Society for Reproductive Medicine (ASRM) and the Society for Assisted Reproductive Technology (SART). Each has received numerous awards, and all five are Castle Connolly "Top Doctors." RMACT's IVF laboratory is accredited by the College of American Pathologists (CAP), and CLIA; other accreditations include the Accreditation Association for Ambulatory Health Care (AAAHC) and the American Institute for Ultrasound in Medicine (AIUM). For more information visit http://www.RMACT.com or find us on Facebook.
###