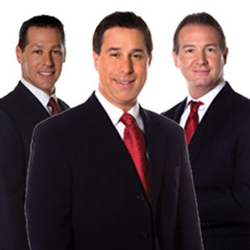 "I embrace the entirety of my life as a gift that has served me and will continue to serve my community," said Patricia Boone.
West Palm Beach, FL (PRWEB) February 12, 2015
Palm Beach-based law firm, Steinger, Iscoe & Greene is in the business of representing the rights of the injured. They have extended that commitment to include the most vulnerable in our community – our children. Through the Steinger Kids Foundation, the firm provides ongoing support for children who have been abused, abandoned or neglected.
This year they took their support one step further by offering a $1,000 essay-based semi-annual scholarship for child advocates or survivors of childhood victimization who have either been accepted to or are currently attending law school.
Law student, Patricia Boone, entering her third year at Northwestern University School of Law, is the recipient of the firm's first award. "Ms. Boone turned life's challenges into triumphs and fully embodies the spirit of what this scholarship is all about," says firm founding partner, Michael Steinger.
In addition to her college coursework, Boone works with foster youth, has created a mentorship program at an alternative school, led volunteer initiatives at the Black Law Student Association (BLSA) and taught debate and a creative writing course to 60 at-risk youth. She is sought out to serve as a public speaker for various non-profits, service clubs, events, and community programs and says, "I embrace the entirety of my life as a gift that has served me and will continue to serve my community."
Child advocacy is the representation of the rights of children and the protection of children against abuse. Advocates can serve in volunteer capacities for organizations charged with child protection, or in the roles of counselors, case managers, and lawyers. In some cases, volunteers serve as court-appointed advocates.
Steinger says, "There are so many children in communities throughout the country that are waiting for someone to step in, step up, and speak up for them. That is the reason the scholarship has no geographic boundaries; any student at any school in the United States can apply if all other requirements are met."
About Steinger, Iscoe & Greene:
Steinger, Iscoe & Greene is a proven legal team whose number one goal is to get injury victims throughout Florida and California every dollar they truly deserve for their injuries. Since 1997, the firm has successfully handled thousands of cases including: auto accidents, bicycle accidents, birth injuries and medical malpractice. The entire legal team is committed to representing and fighting for injury victims' best interests, giving each client insight into their individual rights as it relates to the law.
With more than 30 lawyers, 140 legal professionals, and offices throughout South Florida - Miami, Fort Lauderdale, West Palm Beach, Port St Lucie, Okeechobee, Ft Myers, Orlando and Tampa - and most recently San Diego, California, the firm is ready to advocate for the best interests of injury victims coast-to-coast while offering the No Fee Guarantee®; you don't owe us any money unless we get money for you.
Steinger, Iscoe & Greene
1645 Palm Beach Lakes Boulevard
Ninth Floor
West Palm Beach, Florida 33401
(800) 560 - 5059
http://www.injurylawyers.com
Contact:
Michael Steinger
(561) 616 – 5550
MSteinger(at)InjuryLawyers(dot)com